UN committee divided on Palestinian membership bid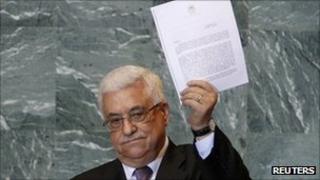 A UN Security Council committee has failed to reach agreement on the Palestinian request for membership in the world body.
The admissions committee summed up the deep divisions within the council, without recommending any action.
The issue will now formally revert to the council, but the committee's decision signals the failure of the bid at least for now.
The Palestinians now have to decide whether to call a vote on the bid.
Alternatively, they could try again to push for full UN membership in a few weeks or months, or they could seek status as a non-member observer state, the BBC's Barbara Plett at UN headquarters reports.
Violence fears
The admissions committee - which included all 15 council members - approved the report on the Palestinian bid on Friday.
Although the discussion focused on whether the Palestinians met the technical criteria for membership, diplomats said ultimately the decision for many countries was political, correspondent says.
She adds that this reflected different views on the Israeli-Palestinian conflict.
"The council will receive the report and will discuss any future initiative," Portuguese envoy Jose Filipe Moraes Cabral said after the committee meeting.
The Palestinians never expected to win at the Security Council, as the US has said it would veto the request, our correspondent reports.
But she says the Palestinians hoped to muster the nine votes needed to pass a resolution, and so to expose the US as the main obstacle to their bid.
Although European states in the council sympathise with the Palestinians, our correspondent adds, they share Washington's concern that the bid could harm chances of reviving US-led Israeli-Palestinian peace talks and ignite violence in the region.
The Palestinians made the formal membership request in September.