Syria: Deadly crackdown continues, say activists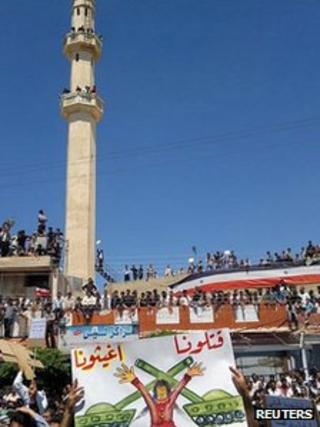 Renewed crackdowns on anti-government protests across Syria have left at least 13 people dead, activists said.
Most of the deaths reportedly occurred in Homs, the city at the centre of months of protests against President Bashar al-Assad.
The latest violence comes hours after Human Rights Watch called on the Arab League to suspend Syria.
It said it had documented abuses against civilians in Homs that amounted to crimes against humanity.
The London-based Syrian Observatory for Human Rights said 10 people had been killed by security forces in Homs on Friday, including a defecting soldier and a 63-year-old man.
Three other people were killed in Deraa in the south, activists said.
The observatory also reported "mass protests" in Sheikhun, in the northern province of Idlib near the Turkish border.
There were also reports of violence and mass arrests in the capital, Damascus and of clashes in the eastern city of Deir Ezzor.
Mass street protests after Friday prayers, followed by brutal crackdowns by security forces have become a weekly feature of Syria's uprising.
The UN estimates that about 3,500 civilians have been killed since the protests began in mid-March.
President Assad's government insists it is battling armed gangs and militants and says hundreds of soldiers and police have been killed.
In its report, HRW said it had documented dozens of incidents in Homs in which security forces and government-backed militias had "violently attacked and dispersed overwhelmingly peaceful protests".
'Violating agreement'
HRW says the Arab League - due to discuss the crisis on Saturday - must step up pressure on Syria after Damascus failed to honour the league's plan to end the unrest.
"Homs is a microcosm of the Syrian government's brutality," said Sarah Leah Whitson, Middle East director of HRW.
"The Arab League needs to tell President Assad that violating their agreement has consequences, and that it now supports [UN] Security Council action to end the carnage."
Syria agreed in early November to withdraw its forces from restive cities, release political prisoners and start talks with the opposition.
But, since then, the UN says that the killing has continued.
The government has restricted foreign journalists from entering the country, making it difficult to confirm events on the ground.