Yemen shelling 'kills 11' in Taiz as UN visits Sanaa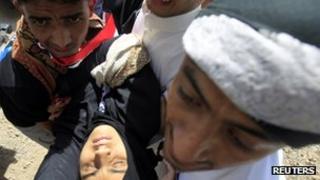 At least 11 people are reported to have been killed in the Yemeni city of Taiz, in fighting between government forces and opposition fighters.
Medical officials say dozens of others were wounded, including civilians.
The upsurge in fighting coincides with the visit to Yemen of a United Nations envoy, Jamal Benomar, who is pressing for a transition of power to end months of conflict.
Protests against President Ali Abdullah Saleh's 33-year rule began in January.
Taiz, Yemen's second biggest city, is about 200km (120 miles) south of the capital, Sanaa. It has been a hotbed of anti-Saleh protests in recent weeks.
Residents of the city say the latest fighting began during protests on Thursday, when one person was killed and several others were injured.
The security forces then began shelling two residential neighbourhoods during the night.
The two districts, Zaid al-Moshki and al-Rawda, along with Freedom Square, have been at the forefront of anti-government demonstrations in Taiz.
Reports say three women and two children, including a nine-year-old boy, were among the 11 killed on Friday.
In Sanaa, tens of thousands of anti-Saleh protesters attended prayers on a main road. Some demanded the president be tried for what they called his crimes against the Yemeni people.
Separate prayers were held by thousands of Saleh supporters in the capital. There were no reports of violence in Sanaa.
Envoy seeks 'transition'
Mr Benomar, the UN envoy, arrived in the Yemeni capital, Sanaa, on Thursday and has been meeting government and opposition figures to press for an end to the violence.
A UN spokesman said the envoy was there to seek "an inclusive transition process that meets the needs and aspirations of all Yemenis".
President Saleh has accepted a peace plan put forward by Gulf Arab countries, under which he will step down in return for immunity from prosecution.
However, he has repeatedly failed to implement the agreement or follow through on his promise to leave office.
Meanwhile, clashes have escalated between his supporters and anti-Saleh factions, which include Yemeni tribal groups and army defectors.
The UN Security Council has called on Mr Saleh end the violence against protesters and step down immediately.