Syria: '33 die' as protests are crushed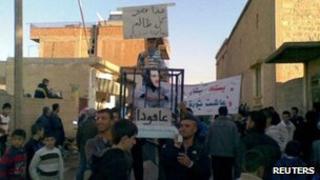 Syrian activists say an eight-year-old girl is among as many as 33 killed in President Bashar al-Assad's campaign to crush anti-government protests.
The girl died in Homs, the main centre of the uprising with repeated clashes between army defectors and soldiers.
The UN says that at least 3,500 people have been killed in anti-government protests in the country.
A top US official said that some Arab leaders had offered sanctuary to Mr Assad to help end the violence.
US Assistant Secretary of State Jeffrey Feltman said it had been agreed among Arab states that Mr Assad's rule was about to come to an end.
"It is inevitable," he said.
"Some of these [Arab states] have even begun to offer Assad safe haven to encourage him to leave quickly," he said, though he did not name the specific countries which had made the offer.
He added that he hoped Mr Assad and his inner circle would "head for the exits voluntarily".
Syrian authorities, who blame armed gangs and Islamist militants for the bloodshed, agreed to an Arab League plan on 2 November to withdraw from restive cities, set political prisoners free and start talks with the opposition.
But, since then, the UN says that at least 60 people have been reported killed - many in Homs.
According to the Local Co-ordination Committees - a network of activists scattered throughout the country - at least 33 people were shot by the army and security forces on Wednesday - including 15 in Homs, 10 in Idlib, and 6 in Hama.
They said six children, including an infant, were among the dead.
In addition to Thursday's killings, local activists said dozens had been arrested during house-to-house raids in a residential district in the city.
The London-based Syrian Observatory for Human Rights said that arrests had been carried out among wounded people in a private hospital in the al-Waer district of Homs.
Several people were also arrested in Jassem, in the southern province of Deraa and, one civilian was killed in the north-western province of Idlib, near the Turkish border, during a sweep by security forces in Kafruma town, the observatory said.
The activists also said at least five soldiers had been killed in ambushes.
The official Syrian news agency said two boys had died in Idlib province, when they inadvertently set off explosives at an abandoned house that was being used by "armed terrorist groups".