Israel ex-President Katsav has rape sentence upheld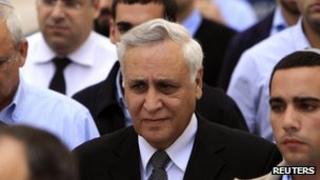 Israel's Supreme Court has upheld a seven-year rape sentence against former President Moshe Katsav.
Katsav, 65, was convicted in December of raping a former employee when he was a minister in the 1990s, and for sexually harassing two other women during his 2000-2007 presidential term.
He resigned from the largely ceremonial post of president in 2007.
He has denied the charges, saying he is the victim of a plot, but the Supreme Court unanimously rejected his appeal.
Katsav is due to begin serving his sentence on 7 December.
He is the first former Israeli head of state to be jailed.
Israeli women's groups had welcomed the initial conviction, arguing that allegations of sexual harassment were too often ignored.