New attack on Egypt gas pipeline to Israel and Jordan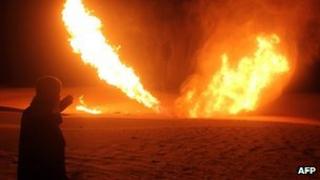 A section of pipeline carrying gas from Egypt to Israel and Jordan has been blown up in northern Egypt, the latest in a series of attacks.
Two blasts took place near the Mazar area, some 30km (18 miles) west of the town of Al-Arish, near the Israeli border, Reuters reports.
The attackers used remote-controlled bombs, shutting the pipeline.
This is the sixth attack on the pipeline since the uprising that toppled President Hosni Mubarak.
A security source told Reuters that initial investigations suggested that improvised explosive devices were positioned under the pipeline and were detonated from a distance.
Two trucks and extended wires were found at the scene, he added.
The blasts are apparently carried out by groups opposed to the sale of Egyptian gas to Israel.
There have been allegations that under former President Mubarak, gas prices for a 20-year deal struck in 2008 were set artificially low.
Jordan depends on Egyptian gas to generate 80% of its electricity while Israel gets 40% of its natural gas from the country. Syria also imports gas from Egypt.