Libya ex-PM al-Baghdadi al-Mahmoudi to be extradited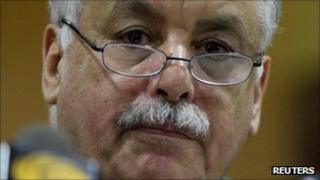 An appeals court in Tunis has approved the extradition of Libya's former Prime Minister, al-Baghdadi al-Mahmoudi, back to Libya.
"It's an unfair decision, a political decision," his lawyer, Mabrouk Korchid, told Reuters.
The extradition request was made by Libya's new government, the National Transitional Council (NTC).
Mr Mahmoudi has reportedly expressed fears for his safety if he is returned to Libya.
Mr Korchid also voiced concern, saying: "If any harm comes to him in Libya, the Tunisian justice system will be a party to that."
Mr Mahmoudi served as prime minister until Col Muammar Gaddafi was ousted earlier this year.
In September he was detained in Tamaghza, southern Tunisia, close to the border with Algeria.
He was sentenced to six months in jail for illegal entry into Algeria, a decision that was overturned on appeal.
However, Mr Mahmoudi has subsequently been detained at a prison near Tunis awaiting a ruling on the extradition request, the AFP news agency reports.
In August, Tunisia recognised the NTC as the Libyan government and has committed itself to co-operation on security issues.
Human rights organisation Amnesty International last week urged Tunisia not to extradite Mr Mahmoudi, saying he risked being subject to "serious human rights violations" in Libya.
After Col Gaddafi's death, Mr Mahmoudi's lawyers expressed fears for his life, saying he now had sole knowledge of many Libyan state secrets.