Syria: Homs military attacks continue, say activists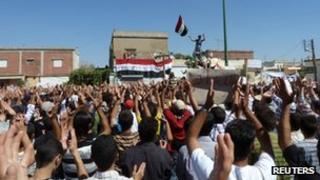 More than 20 people have been killed in renewed attacks by Syrian security forces in the city of Homs, anti-government activists say.
The violence has continued despite the government agreeing to pull its forces off the streets and begin dialogue with the opposition.
The Arab League said the failure of its peace initiative would be catastrophic.
Separately, the authorities announced 553 detainees were being freed to mark the Eid al-Adha holiday.
Figures from the Local Co-ordination Committees on Saturday said 23 people had been killed in Homs and three in Idlib. Violence was also reported in a number of other towns and cities.
The latest deaths brought the number of civilians reportedly killed in Homs to more than 100 since Tuesday.
"Whole buildings have been gutted by tank fire," said Samer, a local activist, quoted by the Reuters news agency.
"Bread has run out and people who get hit in the streets are dying from their wounds on the spot because no one can reach them," he said.
According to the authorities, the security forces are fighting militant gangs who have been killing civilians in Homs.
Elsewhere, suspected defectors killed four pro-government militiamen near the border with Turkey, activists said.
'Catastrophic consequences'
The Secretary-General of the Arab League, Nabil al-Arabi, called for an immediate end to the bloodshed.
"The failure of the Arab solution will have catastrophic consequences for the situation in Syria and the region," he said shortly after meeting Burhan Ghalioun, the Paris-based leader of the dissident Syrian National Council.
A statement said he "called on the Syrian government to take immediate measures to implement the Arab plan, to which it committed itself".
The Arab League plan calls for an end to violence, the release of those detained, the withdrawal of the army from urban areas and free movement for observers and the media, as well as talks between the regime and opposition.
'Not stained by blood'
The Syrian government announced on Saturday that 553 people arrested during the protests would be released to mark the Eid al-Adha feast which begins on Sunday.
They would be people "whose hands are not stained by blood". The government said another 119 detainees had "recently" been freed.
On Friday, Syrian state TV announced an amnesty for anti-government fighters.
"The interior ministry invites those who carry arms, who sold them, distributed them, bought them or financed their purchase and who have not committed any murder to turn themselves in and surrender their weapons to the nearest police station," it said.
The United Nations estimates that at least 3,000 people have been killed since the uprising began in March.
The government says Islamist militants and foreign-backed armed gangs have killed 1,100 members of the security forces.