'New setback' for Palestinian hopes on UN membership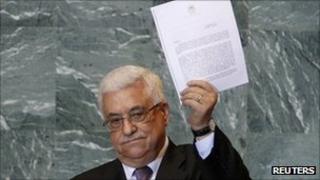 A UN diplomat says the UK, France and Colombia have told Security Council members they would abstain in any vote on Palestinian membership.
None of these countries have officially confirmed this yet.
But their decision is a setback for the Palestinians, who have been trying to win support from European states.
A Council committee is considering a Palestinian application to become a UN member state and is expected to present its report next week.
Violence fears
The UN diplomat said Britain, France and Colombia stated their positions in a private meeting of the Security Council committee dealing with the Palestinian application.
The diplomat said Germany also declared it could not support the Palestinian bid, without clarifying whether it would abstain or vote against.
In real terms this does not matter, because the Americans have already made it clear they would veto the Palestinian request.
But in political and moral terms it does: the Palestinians were hoping to show they could isolate the Americans by getting majority support on the Security Council. That looks unlikely now.
A source in Britain's Foreign Office says William Hague will explain the decision to parliament on Wednesday.
Britain and France support Palestinian statehood in principle.
But they have expressed concern that a Palestinian bid to become a UN member state right now could harm chances of reviving the peace process.
There is also general concern here that a Palestinian confrontation with the Americans on this issue could ignite violence in the Middle East.
The Palestinians, however, have indicated that they are eager to bring the matter to a vote in the Council, possibly even if they do not have a majority.
They can call for one at any time, but if they do it will probably be after the membership committee submits its report late next week.