Syria army deserters 'kill 15 security personnel'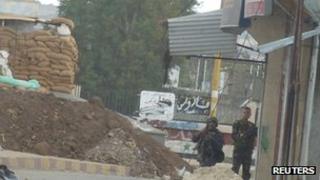 Fifteen members of the Syrian security forces and pro-government gunmen have been killed by army defectors, according to a UK-based rights group.
The Syrian Observatory for Human Rights said seven soldiers died when a bomb hit an army convoy in Hama province.
Eight security personnel and loyalist gunmen were killed in a second attack in the same area, it added.
The attack came as the Arab League said that Syria had agreed to its proposals to end the violence.
The agreement requires Syria to withdraw all troops from cities and an immediate cessation to all killing. It also sets a timeframe for talks with the opposition.
Peace plan
Protests against President Bashar al-Assad have taken place since March but have become increasingly violent as soldiers have defected to the opposition instead of firing on activists.
An Observatory official said the central cities of Homs and Hama were being surrounded by tanks, and deserters have been trying to create a "safe passage" for civilians to get out for medical treatment and for food to get in.
Earlier on Wednesday, gunmen stormed a factory in Homs, killing 11 workers, according to activists. Amateur video showed the bodies, bound and gagged, lying on the floor.
Security forces also shot dead eight civilians in several Homs neighbourhoods, the Observatory said.
Following talks in Cairo, the Arab League announced the Syrian government had agreed to peace proposals aimed at ending the violence.
The plan includes the release of prisoners, the withdrawal of security forces from the streets, and talks between the government and opposition.
Syria is also required to allow journalists, rights groups and League representatives to move freely in the country to monitor the situation.
Landmines
Meanwhile, US state department spokeswoman Victoria Nuland said the US would judge Syria's leaders "by their actions", rather than their words.
Reports that Syria has laid landmines along its border with Lebanon have brought swift condemnation from campaigners.
Syrian sources quoted by AP news agency said they had been planted to prevent weapons smuggling.
At least 3,000 people have been killed in the unrest in Syria, while hundreds of others have disappeared.
The government of Mr Assad - who took over from his father as president in 2000 - says the violence is being carried out by "armed gangs" and "terrorists". More than 1,000 security personnel have lost their lives in the fighting, the government claims.
Foreign journalists are unable to move around Syria freely and information is tightly controlled, making reports difficult to verify.