Ghana seafood restaurant denies 'whites only' policy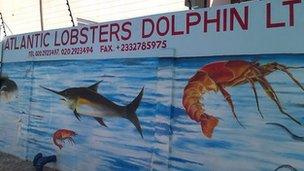 An Italian worker at a restaurant in Ghana under investigation for allegedly operating a "whites only" policy has told the BBC it was a misunderstanding.
Marco Ranaldi said he made "a joke" about the racial profile of members of the Atlantic Lobsters and Dolphins.
A Ghanaian woman started an online protest after visiting the restaurant a week ago and allegedly being told that it was "only for white people".
Meanwhile, tourism authorities closed it on Tuesday as it was not licensed.
Police are still investigating the allegations of racism.
Ms Okoro, 26, said she visited the restaurant in the capital, Accra, with some colleagues a week ago and was shocked to hear about the membership rules for the establishment.
"My Spanish colleague started filling out the membership book and at that point I said: 'Oh excuse me, I'd also like to join this club', and he responded, 'No, I'm sorry, it's only for white people,'" she told the BBC's Network Africa programme.
"I have not paraphrased, I haven't misconstrued, it wasn't lost in translation... it was an exact statement," she said.
Mr Ranaldi, who works at the restaurant owned by Sylvatore Dalao, does not deny making the allegedly racist statement.
"When I was giving the member card to the Spanish guy, [and] the lady said, 'Why don't you give it to me?' - so I make a stupid joke. She gave me back an answer like: 'Ah ah, but if you do like this, tomorrow I will come back with police', and she laugh[ed]," he told the BBC.
"So I thought that both of us we were kidding. I mean, I made a stupid joke but I thought that she took it as a joke."
The controversy prompted a visit to the Atlantic Lobster and Dolphins by Ghana's Deputy Minister of Tourism James Agyenim Boateng.
He said the club was being shut down as it did not have a catering permit and was in breach of Ghana's tourism laws.
Related Internet Links
The BBC is not responsible for the content of external sites.