Tunisia issues warrant for Yasser Arafat's widow Suha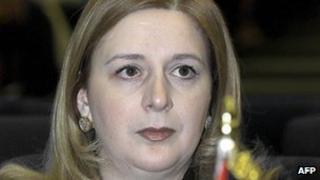 Tunisian authorities have issued an international arrest warrant for Suha Arafat, the widow of the late Palestinian leader Yasser Arafat.
The justice ministry said she is suspected of involvement in financial corruption with the family of deposed President Zine al-Abidine Ben Ali.
Mrs Arafat used to spend much time in the country and went into business with Ben Ali's wife, Leila Trabelsi.
She has denied the charges, AFP news agency says.
"Tunisia issued an arrest warrant against Mrs Arafat on suspicion of involvement in cases of financial corruption with the family of Ben Ali's wife," a spokesman for the justice ministry said.
The Ben Ali and Trabelsi families controlled much of the Tunisian economy.
After Mr Arafat's death in 2004, Mrs Arafat received Tunisian citizenship and set up an international school in the city of Carthage with Trabelsi.
Relations between the two soured and in 2007 her citizenship was revoked and she was forced to leave the country.
Former President Ben Ali was overthrown in January, in the first popular uprising of the Arab Spring, and fled to Saudi Arabia.
Tunisia's interim government has launched cases against dozens of people suspected of corruption during Ben Ali's 23 years in power.
Tunisian courts have convicted Ben Ali and Trabelsi in absentia of theft, corruption and other charges, which they denied.
The Arafat connection to Tunisia dates back to the 1980s when the Palestinian Liberation Organisation was exiled and set up its headquarters in Tunis.
Mrs Arafat is now reported to be living in Malta.