Militants killed in Israeli air strikes on Gaza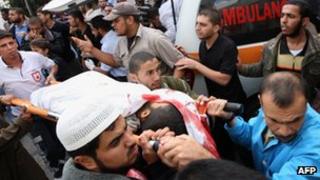 Five Palestinian militants have been killed in a number of Israeli air strikes on the south of the Gaza Strip.
The violence is the most serious since a major prisoner exchange deal earlier this month between Israel and Hamas, the Islamist militant group that governs in Gaza.
The militants were killed at an Islamic Jihad training site in Rafah in the south of the strip.
Doctors say at least 10 other people were injured in the strike.
The Israeli air force has confirmed it carried out the attack. It said the militants were preparing to launch rockets into Israel.
An Israeli army spokesman confirmed to the AFP news agency that aircraft had attacked other sites. A statement said the Israeli military had "attacked three terrorist sites in the Gaza Strip as well as an arms factory in the south of the territory".
One of the targets was reported to belong to Hamas.
Islamic Jihad is one of the main militant groups in Gaza but is not directly affiliated with Hamas.
A statement from the group said it would retaliate.
The violence comes less than two weeks after a major prisoner exchange which saw about 500 Palestinian prisoners released from Israeli jails in a swap for the captured Israeli soldier Gilad Shalit.
Some of those released were Islamic Jihad members.
A further 500 Palestinian prisoners are due to be freed as part of the deal later this year.
BBC Gaza correspondent Jon Donnison says an escalation in violence could jeopardise those releases.