Syria protesters call for no-fly zone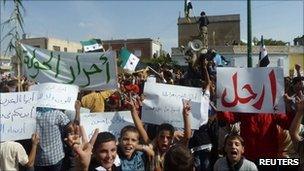 At least 37 people have been killed in crackdowns during protests calling for the downfall of the government held across Syria after Friday prayers.
The deaths took place mostly in Homs and Hama as protesters called for a no-fly-zone to be imposed, activists said.
Despite the threat of violence, at least 170 protests took place on Friday, the traditional day of protest.
More than 3,000 people have died in the unrest since protests broke out in March.
Protesters said those killed on Friday included an 80-year-old man shot near Homs, as well as a young boy near Deraa, in the south.
Protesters called for international protection from Nato whose war planes played a vital role in the overthrow of former Libyan leader Muammar Gaddafi.
"God, Syria, we want a no-fly zone over it," protesters shouted in the Bab Tadmur neighbourhood of Homs, while others carried banners demanding international protection, Reuters reports.
In the restive Balaa neighbourhood, around 20,000 people marched calling for the fall of President Assad's regime, Agence France Presse reports, quoting the London-based Syrian Observatory for Human Rights.
An armed insurgency has emerged over the past few weeks around the city, home to one million people and some 85 miles (140km) north of Damascus, the news agency reports.
In the capital, footage posted on the internet appeared to show a crowd of hundreds swaying and singing in a traditional dance whose lyrics had been adapted to become a protest song, Reuters reports.
Dozens of young protesters marched in the capital's Barzeh neighbourhood, the Observatory said, adding that 40 were arrested.
Internet and communications services were reportedly disrupted in parts of Damascus, as well as in Homs.
Concerns are mounting as what began as a peaceful protest movement has become increasingly armed as soldiers have defected to the opposition.
The Syrian government insists the unrest is being stoked by armed gangs and foreign extremists looking to stir up sectarian strife.
Syrian state media said that what it called "armed gangs" had attacked the main police station in Homs and that gunmen had shot dead a young boy and an old man.
They said security forces had captured a number of armed men and seized quantities of weapons and ammunition.
Foreign journalists have been largely prevented from reporting from the country, making it difficult to confirm events on the ground.
On Wednesday, envoys from six Arab League nations - Qatar, Egypt, Algeria, Oman, Sudan, Yemen - arrived in Damascus to hold what were described as "frank and friendly" talks with President Assad.
The visit followed a call by the group for talks between the Syrian government and opposition forces to take place within 15 days.
The talks are scheduled to resume on Sunday, either in Damascus or in Qatar.
But a spokeswoman for the opposition Syrian National Council (SNC), said it was "impossible" to talk about dialogue as the crackdown continued.