Saudi Arabia names Prince Nayef as heir to throne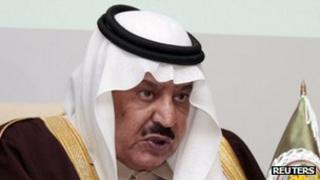 Saudi Arabia has named Prince Nayef bin Abdulaziz al Saud as the heir to the throne of King Abdullah.
The move follows the death last week of the previous crown prince, Sultan bin Abdul Aziz.
The new crown prince, aged 78, has been the oil-rich kingdom's interior minister since 1975 and will now also become deputy prime minister.
King Abdullah, 87, is recovering from his third operation to treat back problems in less than a year.
Prince Nayef is a brother of the late Crown Prince Sultan, and like his brother, is regarded as less reform-minded than King Abdullah. He has been interior minister since 1975.
A royal court statement read out on state television said the crown prince had been appointed after the king met the Allegiance Council, a family body set up in 2006 to make the process of succession in the conservative Islamic kingdom smoother and more orderly.
The succession in Saudi Arabia still passes among the sons of King Abdulaziz, who established the modern Saudi kingdom during his reign from 1932 to 1953.
Next in line is expected to be Crown Prince Nayef's younger brother, Prince Salman, who is the governor of Riyadh.