Iraq bomb blasts: Toll in Baghdad rises to 36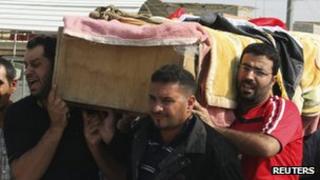 At least 36 people are now known to have died in the twin bomb blasts which hit Baghdad on Thursday.
The first blast occurred in Ur, a mainly Shia district of northern Baghdad. The second went off as rescuers were evacuating the wounded.
At least 78 people are said to have been injured in the roadside attacks.
There has been a resurgence in militant violence in Baghdad in recent weeks. The last US troops are preparing to leave Iraq by the end of the year.
After Thursday's attacks, eyewitness Ahmed Jalil, 27, told the Associated Press news agency: "I stood outside my shop and saw burning cars and dead bodies on the ground."
No group has said it carried out the bombings.
Official have blamed al-Qaeda for recent violence - which includes a string of car and roadside attacks that killed at least 28 people in Baghdad on 12 October.
The increase in attacks has raised concern that violence might increase once the American military departs.
All US troops will now leave by the end of 2011 after Washington and the Iraqi authorities failed to agree on plans to keep a US military training mission in Iraq after that deadline.
Despite the latest wave of attacks, violence across Iraq is much reduced since a peak in 2006-2007.