Egypt's new face in swap for Israeli 'spy' Ilan Grapel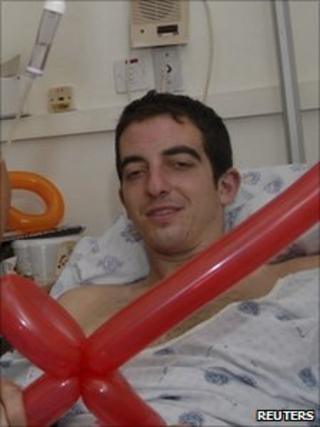 At first glance, Israel's decision to trade 25 prisoners with Egyptian passports for the release of Ilan Grapel from a Cairo prison has echoes of the exchange which saw captured Israeli soldier Gilad Shalit traded for a thousand Palestinian prisoners. But only at first glance.
The plight of Sgt Shalit - a young conscript who was abducted by Palestinian militants five years ago - engaged the sympathy of the nation. His family staged a long vigil in a tent outside the residence of the Israeli prime minister and made his plight a central issue in Israeli life.
Mr Grapel's misadventures in Cairo - while no doubt grim and nerve-wracking for his family - have not acquired the same political resonance in Israel.
If he is a spy, as Egypt alleges, then he is not a very good one - more Inspector Clouseau than James Bond.
As a young Jewish-American, Mr Grapel decided to travel to Israel to serve in the Israeli Defence Forces and was wounded in the Second Lebanon War in 2006. When he travelled to Egypt, he left a photograph of himself in military uniform on his Facebook page and there are stories of him being seen consulting a Hebrew-Arabic dictionary in the streets of Cairo.
Evidence 'hardly convincing'
The "evidence" assembled in the Egyptian media to support the accusations of espionage was hardly convincing.
One report had a waiter observing that Mr Grapel was a big tipper - surely the first waiter in history to suggest there is anything wrong with that. Another noted solemnly that he and a girlfriend had always spoken in quiet voices - as though anyone who doesn't go around bawling like the captain of a whaling ship is probably a spy.
It seems likelier that Mr Grapel is exactly who his friends and supporters say he is. A bright young American-born law student who wanted to be in Cairo earlier this year because the Cairo of that time was an exciting place to be. He was interested in the Arab language and culture and supported the pro-democracy demonstrators.
It is probable that the young American-Israeli underestimated the extent to which anything connected with Israel is an automatic magnet for hostility in many parts of the Arab world, certainly in Cairo.
I have been in Tahrir Square myself when rumours have swept through crowds of demonstrators that there were Israeli infiltrators in their midst. It's not difficult to imagine Ilan Grapel falling foul of that kind of hysterical suspicion and finding himself under arrest once he was pointed out to the police.
One senior Israeli minister has already said that Ilan Grapel was naive - and the Israeli government has denied that he was a spy.
Still, whatever the circumstances surrounding the arrest, the detention of Ilan Grapel has become a diplomatic issue of a sort.
'New Egypt' brokers
Egyptian officials brokered the deal between Israel and Hamas last week. In parallel, it now seems details of an exchange for Ilan Grapel and the 25 Egyptian prisoners - three of whom were minors - were resolved at around the same time.
The subtext of the negotiations is that the new Egypt is determined to assert itself as a power in the Middle East - able to talk both to Israel and to Hamas and able in diplomatic terms to deliver. It also demonstrates that Egyptian policy towards Hamas in Gaza (which has a border with Egypt) will be more complex than the unwavering hostility of Hosni Mubarak's regime.
That is important because Egypt's long-standing peace treaty with Israel was the cornerstone of the old order in the Middle East - not to mention a vital plank in American regional policy. It had seemed likely - particularly when an Egyptian mob tried to storm the Israeli embassy in Cairo - that that relationship would be damaged in the winds of the Arab Spring.
Partnership was only possible when Egypt was an autocracy, ran the argument, and once democracy took a hold there, then sooner or later the profound hostility with which many Egyptians view Israel would feed through into policy.
Resumption of business
These deals show that the new Egypt is still ready to do business with Israel on business-like terms. There may not be any warmth in the relationship but in truth there never was.
It is reasonable to assume that if Egypt really believed Ilan Grapel was an Israeli agent, they would either have refused to release him altogether or demanded a much higher price. Securing the freedom of a couple of dozen of prisoners mainly jailed for smuggling offences suggests the Egyptians were looking for a face-saving concession to present to their own people.
Dictatorships do not have to take account of public opinion. That kind of sensitivity is in itself a sign of changing times in Cairo.
Overall, the deal leaves Egypt's military rulers looking a little stronger. The country sees itself as a natural leader in the Arab world - and therefore the Middle East - and this is a reminder to rivals for regional clout like Turkey and Saudi Arabia that Egyptian influence is real.
Very soon now, it seems, Ilan Grapel will be freed. The freed Egyptians will head the other way. And all 26 will be remembered as mere footnotes to the historic events of the Arab Spring.
The forces that set the wheels of the deal in motion are interesting, though - and say quite a lot about the changing times in the Middle East.