Arab League meets Syrian President Assad in Damascus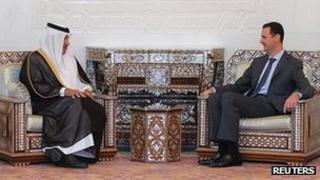 A team of senior Arab officials have held "frank and friendly" talks with Syrian President Bashar al-Assad, in an effort to end months of unrest.
Qatari PM Sheikh Hamad al-Thani, who is heading the Arab League delegation, said they would meet again on Sunday.
Earlier, thousands rallied in Damascus in support of their leader, while the opposition held general strikes.
Correspondents say prospects for a positive outcome from talks are dim, as long as the crackdown continues.
More than 3,000 people have died in the unrest since protests broke out in March.
Concerns are mounting as what began as a peaceful demonstration has become increasingly armed as soldiers have defected to the opposition.
'Soldiers killed'
Envoys from six nations - Qatar, Egypt, Algeria, Oman, Sudan, Yemen - arrived in Damascus on Wednesday.
"The meeting with President Assad was frank and friendly and we are going to continue our talks on [Sunday] 30 October," Sheikh Hamad told reporters.
"We took note of the commitment of the Syrian government to work with the Arab committee to reach a solution," he added, according to Reuters news agency.
He said the next meeting would take place either in Damascus or in Qatar.
The Arab League visit follows a call by the group for talks between the Syrian government and opposition forces to take place within 15 days.
At the meeting on 17 October, the League decided not to suspend Syria from the organisation.
Bassma Kodmani, spokeswoman for the opposition Syrian National Council (SNC), said it was "impossible" to talk about dialogue as the crackdown continued.
"And even if the right conditions for dialogue prevail, the only thing to discuss would be a roadmap for the peaceful transfer of power," she told AP.
The SNC has called for international protection for civilians and requested that international observers be allowed into Syria to monitor the situation.
General strike
Earlier, thousands of people gathered in central Umayyad Square in Damascus, waving posters of President Assad, in what has become a weekly show of support organised by the authorities.
Many chanted slogans, such as "the people want Bashar al-Assad", according to AFP.
The opposition, meanwhile, called for a nationwide general strike.
The Local Coordination Committees, which organise protests, said the strike call was widely followed in Deraa, southern Syria; in areas of Damascus; in Idlib province; and in the cities of Hama and Homs in the centre of the country, AFP reports.
At least 15 people were killed on Wednesday, activists said, including nine soldiers killed in a grenade attack in Hamrat, north of Homs.
The Syrian Observatory for Human Rights said four of the civilians killed were from Homs. One was an 18-month-old baby, said the observatory, which is based in London.