Viewpoint: 'Released Palestinian prisoners are heroes'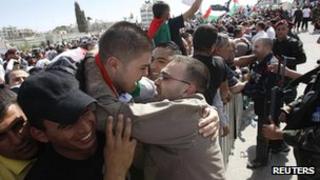 Israeli soldier Gilad Shalit was freed by Hamas last week in exchange for hundreds of Palestinian prisoners. Some Israelis were angered at what they considered to be a high price paid by Israel, but Palestinian Nasser Ziad explains why he thinks the deal was right.
Among the hundreds of Palestinian prisoners released by Israel in the first stage of their exchange for Gilad Shalit, there was my close friend's father, Omar al-Ghoul.
I was very happy for all the prisoners and their families as they were reunited after years of unlawful separation and inhumane treatment, but especially for the al-Ghouls who live in Mughraga, central Gaza, close to the former Israeli settlement of Netzarim.
Omar al-Ghoul was a member of the al-Qassam Brigades, the military wing of Hamas. He received a triple life sentence from an Israeli court 24 years ago for his role in attacks on Israeli targets in Gaza and for joining a secret cell of fighters.
My friend, Ibrahim al-Ghoul, was born six months after his father was detained. Until this week, he had not seen him for 10 years, since a prison visit in 2001.
Since talk of a possible prisoner exchange with Israel began five years ago, following the capture of Cpl Shalit, I have seen his face light up with hope only to turn to sadness each time a deal appeared imminent but then fell through.
It has been difficult to grow up without getting to know his dad. "It's like you are told you have a father but you have never seen him," Ibrahim told me.
There is so much catching up to do that he still does not know what stories he and his father will be able to share. "Let's see if I will get used to him quickly," he says.
Ibrahim's mother, Suheir al-Ghoul, has done her best to raise her children and look after 18 grandchildren in her husband's absence. For a long time, she depended on intermittent visits to the prison to see him and allow him to assume some fatherly duties. However the Israelis suddenly blocked these for the whole family 10 years ago.
Suheir has always said that her husband Omar is not a murderer, but a hero. He was fighting for our freedom and our dignity. He never wanted to fight anyone but living under the Israeli occupation is very tough.
She turned up at Rafah to meet her husband with her two sons, both wearing the uniform of the al-Qassam brigade.
'Legitimate target'
As a Palestinian, I also perceive Omar and all the Palestinian prisoners as national heroes. They have sacrificed themselves for the Palestinian struggle.
I also believe Gilad Shalit was a legitimate target for capture. As I remember, he was inside a tank while on patrol near the border with Gaza at the time. He was a soldier in the Israeli army, which has murdered Palestinian women and children. The world should not value an Israeli's life more than a Palestinian's.
Israel has attacked Palestinian towns and cities, destroying our houses and snatching our land. It continues to carry out incursions into the West Bank and puts Palestinians behind bars for long periods without charge.
Despite all this, I am pleased that Gilad Shalit has been reunited with his family, as have many Palestinians, including Omar.
Omar has said that detention is hard on a human being and described his sorrow for all victims of this conflict - Palestinian and Israeli.
All of us in the Gaza Strip can identify with someone who has experienced living without freedom. Gaza has been under a very difficult siege for the past five years.
I do think that Hamas could have obtained a better prisoner exchange deal. For the al-Ghoul family, this period of joy is also tinged with sorrow.
Ibrahim's brother, Mahmoud, is one of over 4,000 Palestinians who remain in an Israeli prison. He was arrested at his family house in 2003. Another brother and cousin were killed in the raid.
Now that he has been released, Omar says he is planning a quiet life, going to work on the family's farm. He wants to buy a cow for milk.
All of us wish that Israel would end its occupation of Palestinian territory, so we can all live in peace.