Syria crisis: Iran's Ahmadinejad criticises killings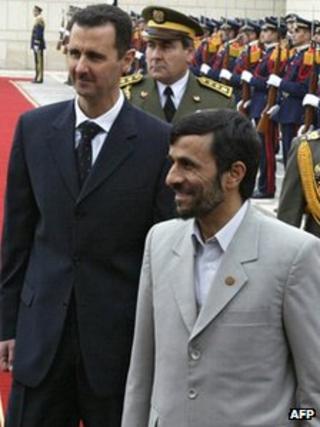 Iran's President Mahmoud Ahmadinejad has criticised the killings in its ally Syria sparked by the government's violent crackdown on dissent.
In his most outspoken comments yet, Mr Ahmadinejad told CNN: "Nobody has the right to kill others, neither the government nor its opponents."
He said Iran would encourage all sides to reach an understanding, but warned the US not to intervene in Syria.
Syria has close ties with Iran, which suppressed its own protests in 2009.
Iran has also put down or prevented about a dozen protests since the wave of anti-government uprisings in the Middle East began earlier this year.
"We are going to make greater efforts to encourage both the government of Syria and the other side, all parties, to reach an understanding," Mr Ahmadinejad said in the interview with CNN.
He warned against any outside intervention in Syria, in particular by the US.
"The positions of the United States are not going to help. They have never helped," he said.
Iran has been muted in its criticisms of Syria, its most important ally in the region.
However in September, Mr Ahmadinejad spoke of "needed reforms", while the Iranian foreign minister called on Syrian President Bashar al-Assad to "be accountable to his people's legitimate demands".
Shia Iran is regarded with suspicion by its Sunni Arab neighbours. Syria's government is dominated by the Alawite sect, an offshoot of Shia Islam.