Gaddafi spy chief Koussa 'tortured' Libya prisoners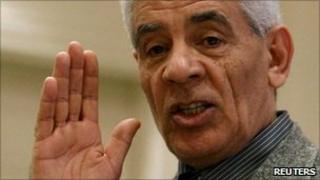 Muammar Gaddafi's former spy chief, who fled to Britain in March, personally tortured political prisoners in Libya, the BBC's Panorama has been told.
Moussa Koussa was the slain ex-leader's right-hand man and the key liaison with British intelligence in the aftermath of 9/11 when Libya sought new allies.
He has also been accused of involvement in the 1988 Lockerbie bombing.
The BBC traced Mr Koussa to a luxury hotel in Qatar but he refused to respond to the new allegations.
In Libya, Muftah Al Thawadi told the programme that he was personally tortured by Mr Koussa in 1996 in Tripoli's notorious Abu Salim prison.
"While I was being questioned, Moussa Koussa was electrocuting me in my neck with the electric rod," he said of the interrogation.
Kidnapping, rendition
In subsequent years, Moussa Koussa played a lead role in negotiations with British and American intelligence services over Libya's move to denounce terrorism and give up its weapons of mass destruction.
After the fall of Tripoli in early September, workers from Human Rights Watch uncovered documentation in Moussa Koussa's former office that revealed the extent of his ties to western intelligence services relating to the War on Terror.
The documentation revealed details of the kidnapping and rendition of suspected terrorists.
That discovery led UK Prime Minister David Cameron to refer the new information to the Detainee Inquiry first announced in July 2010 to examine whether British authorities "were involved in improper treatment, or rendition, of detainees held by other countries in counter terrorism operations overseas" in the aftermath of the 9/11 attacks.
Mr Thawadi said that, in the case of Moussa Koussa, it was time Western governments acknowledged who they had been doing business with and forced him to face justice.
"He is a murderer and a criminal and his only concern was that this corrupt regime which ruled Libya with iron and fire should remain in power. Moussa Koussa practised torture.
"It is imperative that the West, whether it is government or people, must hand over this criminal to justice and he must receive his punishment," he added.
Video evidence
Another torture victim, Nouri al-Burki, was himself a member of the Libyan security services when he was arrested in 2004 along with 20 others who were accused of plotting to assassinate Col Gaddafi.
He told of being subjected to severe beatings and said he had his genitals mutilated.
He said Moussa Koussa had been personally responsible for his treatment and the intelligence chiefly knew of the extent of the torture going on in the prison.
"He knew and he was certain that I had been tortured and that my honour had been forsaken and that I had been unjustly arrested. He knew that very well," Mr Burki said.
The programme also found new videotapes showing Gaddafi loyalists torturing their political opponents as recently as May as the country was in the throes of civil war. The evidence was found in the rubble of several former security building that were destroyed by fleeing Gaddafi supporters.
Panorama: Britain, Gaddafi and the Torture Trail, BBC One, Monday, 24 October at 2030BST and then available in the UK on the BBC iPlayer.