Obituary: Crown Prince Sultan bin Abdulaziz al Saud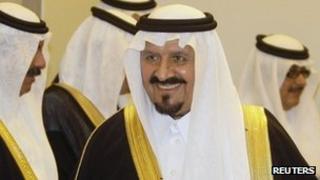 Saudi Crown Prince Sultan bin Abdulaziz al Saud has died after a long battle against colon cancer. As one of the sons of the favourite wife of the founder of Saudi Arabia, he was a major influence for many years in the Kingdom, serving as minister of defence and aviation.
Crown Prince Sultan was a member of the most powerful family group in Saudi Arabia, the Sudairi Seven.
They are the sons of Ibn Saud's most influential wife, Hassa bint Ahmad al-Sudairi. The oldest of the seven was King Fahd, who died in 2005 - to be succeeded by a half-brother, the current King Abdullah.
So, Sultan was born to power and influence and, as the oil riches poured into Saudi Arabia, wealth.
His first appointment was as governor of Riyadh. He was made Minister of Defence and Aviation in 1963.
In this post, he oversaw extraordinary expenditure on modernising the armed forces, as multi-billion dollar deals made Saudi Arabia one of the world's biggest arms spenders.
BBC Middle East analyst Sebastian Usher says that despite this, Saudi Arabia is still widely seen as unable to defend itself against major threats.
Sultan was also involved in the setting up and development of the national airline, Saudia. Huge sums of money flowed into Saudi Arabia because of the deals - and Sultan benefited as much as anyone.
He was one of the strongest supporters of forging close ties with the US - links which came under strain after 9/11.
His son, Prince Bandar, was instrumental in this as the Kingdom's Washington ambassador for more than 20 years.
Sultan was still defence minister in 1990 at the time of the first Gulf War, when US troops deployed in Saudi Arabia to help defend the country against Iraq forces that had overrun Kuwait.
Another of his sons, Prince Khaled, served as the top Arab commander in Operation Desert Storm.
Health issues
Sultan's health and age had already raised questions over whether he would be able to succeed Abdullah as King.
The crown prince had a string of health issues. He underwent surgery in New York in February 2009 for an undisclosed illness and spent nearly a year abroad recuperating in the US and at a palace in Agadir, Morocco.
Furthermore, his death has again shone a spotlight on the Saudi succession. Correspondents say the mechanism of picking the next crown prince is not entirely clear.
Another member of the Sudairi Seven, interior minister Prince Nayef, was made second deputy prime minister in 2009 - in effect the next in line after Sultan.
But their generation of Saudi leaders are now in their 70s or 80s and there is no clear idea yet of who will take over among Ibn Saud's legion of grandsons when they have died out.
The Saudi King traditionally names his successor but, as the Associated Press reports, it is possible the king could put the decision of his heir to the Allegiance Council, a body he created a decade ago as one of his reforms. The council is made up of his brothers and nephews with a mandate to determine the succession.
Crown Prince Sultan is survived by 32 children from multiple wives.