Joy and despair in Israel at Gilad Shalit's return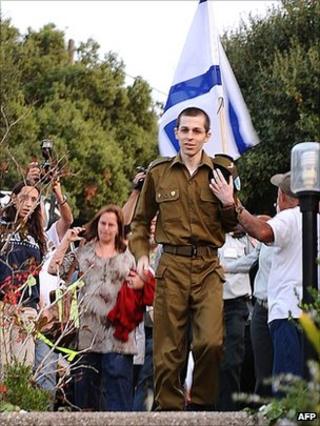 For Israel, the story of Gilad Shalit's capture, detention and eventual return home is not the story of one family and its struggle to get their son back.
If it were, it is highly unlikely Israel's government would have been willing to pay such a high price: 1,027 Palestinian prisoners for one soldier. That hardly seems a balanced trade.
Instead, this is a story that involved tens, hundreds of thousands of Israeli families, and the image that Israel has of itself as a society.
As Gilad Shalit, looking pale and tired, walked free from five years in a Gaza basement the whole country was glued to its television screens.
Hundreds of thousands of Israelis had joined the campaign for his release.
Even Bar Refaeli, Israel's most famous supermodel, tweeted her delight when the news came through last week that the quiet young soldier would be freed.
Prime Minister Benjamin Netanyahu also knew this was not about one man when he went in person to greet Gilad Shalit at an air base in central Israel.
"Welcome home Gilad," the ex-commando said to the young soldier before grabbing him in a slightly awkward bear hug.
Then he took the young soldier to be re-united with his parents. "I have brought your son home to you," he told them.
A brazen act of self-promotion by a cynical politician? Maybe. But Mr Netanyahu was also very deliberately portraying himself as an Israeli leader fulfilling his promise.
Israel likes to see itself as a small, plucky nation surrounded by enemies - where every man, and woman, must serve to defend the land.
Military service defines being an Israeli.
And every parent knows the anxiety and fears of sending a son or a daughter off to do their military service.
Paying the price
In return, Israel's leaders have long vowed never to leave a soldier behind on the field of battle.
Over the decades, Israel has gone to extraordinary lengths to try and get soldiers home. It has not always worked.
Everyone in Israel knows the story of Ron Arad, an air force pilot shot down over Lebanon in 1986.
He was caught by the Lebanese militant group Amal, and later handed to Hezbollah.
Israel is reported to have offered huge sums of money for his return.
But, in 2006, Hezbollah publicly stated that Arad was dead.
However, in the case of Gilad Shalit, it has always been clear that he was alive. His Hamas captors had taken him for the very reason of doing a prisoner swap.
Hamas also knew very well just how much Israel would eventually be willing to pay to get him back.
And that is why, despite the price Israel has now paid, 80% of Israelis are solidly behind this deal.
That does not mean the prime minister does not have his detractors.
One group of Israelis - the families of Israelis killed in Palestinian attacks - is vehemently opposed.
The home of Arnold and Frimet Roth, on a hillside just outside Jerusalem, has become a shrine to their daughter Malka. The 15-year-old was killed by a suicide bomber at a pizza parlour in 2001.
As the date of these releases has approached, the anguish in the Roth household has steadily increased.
Among the 477 Palestinians set free is a 31-year-old woman called Ahlam Tamimi.
She was serving 16 life sentences for planning and helping to carry out the attack that killed their daughter.
Ahlam Tamimi has never expressed any remorse, and has openly declared she would do the same again.
The Roths, understandably, feel that their loss and their pain is being forgotten; that justice for their daughter is being betrayed in the rush to celebrate Gilad Shalit's release.