Why was Gilad Shalit not freed sooner?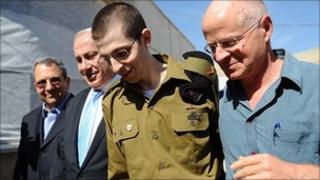 Israeli soldier Gilad Shalit's five year's of confinement in Gaza begs the question; could he have been released sooner?
Many were surprised that Israel did not attempt a rescue mission, particularly during its large scale 2008/9 incursion in the Gaza strip.
Clearly, it is extremely hard to find somebody being held in a densely populated Middle Eastern city, as the UK discovered when trying to track down Terry Waite and the other hostages in Beirut.
However, the main reasons for the length of the captured Israeli soldier's imprisonment seem to have been political.
According to Colonel Ronen Cohen, formerly a senior Israeli intelligence officer, the military "never took responsibility for the soldier and did not even set up a team to deal with bringing him back".
No rescue plan was ever seriously mooted, nor was there the detailed intelligence gathering going on that would have been essential to enable such a mission, he says.
The underlying reason for this appears to have been a lack of political will or, put another way, a willingness to let Sergeant Shalit remain in Gaza until the politics ripened. There were three key players for whom the timing had to be right; Israel, Hamas, and Egypt.
Isolation
For Israel the kidnap forced them to deal with the Hamas authorities in Gaza, something they were unwilling to do, particularly once the Islamist movement had taken overall control of the territory in June 2007. Israel's priority, and incidentally the priority of the Palestine Liberation Organisation (PLO), was to isolate Hamas, reinforcing the blockade of Gaza.
The blockade conditioned not just Israel's attitude to negotiation with the new authorities in Gaza but also Egypt's. Officials in Egypt long maintained that they shut their Rafah crossing with Gaza (where, incidentally Sgt Shalit was freed this morning) on the request of the PLO, which blamed Hamas for killing large numbers of supporters from President Mahmoud Abbas' Fatah party during their takeover.
Egyptian President Hosni Mubarak apparently needed little encouragement, for he too wanted to isolate Hamas, and this prevented until recently Egypt's intelligence service, which exerts a powerful influence in Gaza, from brokering a deal.
Months passed, and the security situation deteriorated, with rocket attacks on Israeli towns and air strikes in response, until a major flare up resulted in late 2008. During three weeks of heavy fighting something like 1,100-1,400 Palestinians were killed - the exact figure is still disputed.
At this point the political difficulty for Israel became the size of prisoner release that Palestinian intermediaries were demanding and the difficulty of agreeing to a step that might be seen as rewarding the militant group so soon after the fighting.
By the time video of Sgt Shalit was put out by Hamas in October 2009, the failure to secure his release had become enough of an issue for the government to be contemplating the kind of serious sacrifice - a large scale prisoner release - that it carried out today.
The issues from their perspective were that Hamas was asking for too many prisoners, the different Palestinian political groups were arguing about the relative numbers of detainees each should get, and some of those being requested were people who had carried out spectacular terrorist attacks leading to large scale loss of life.
Obstacle removed
So, it had taken years for the Israelis to come to the conclusion that they had little alternative but to deal with Hamas and give them the kind of exchange that could be depicted as a major victory, but by then it was over to the others. Arab analysts believe current political trends played an important role.
In the first place the fall of Mr Mubarak removed an obstacle to Egypt playing a fuller role. In Gaza meanwhile, Hamas felt popular pressure to negotiate an easing of the Israeli blockade, and to regain political ground lost to President Abbas this summer when he took his people's case for recognition to the United Nations. Thus Egypt began to close the gap between Israel and Hamas, and a deal became a real possibility.
Where does this leave peace in the region? Most probably the impact of today's events will be tactical rather than strategic. The fundamental obstacle to Israeli political dialogue with Hamas remains, which is that the Islamic movement will not accept Israel's right to exist or the two state solutions as anything more than temporary accommodations.
On the other hand, the release of Sgt Shalit clears an obstacle to further political liaison and easing of the Israeli blockade of Gaza, something that may ease tensions in the region.
Mark Urban will give his take on what the wider impact will be of the exchange of hundreds of Palestinian prisoners for Israeli soldier Gilad Shalit on Tuesday's Newsnight, 18 October 2011, at 2230 on BBC Two.