Yemen forces open fire on protest killing seven people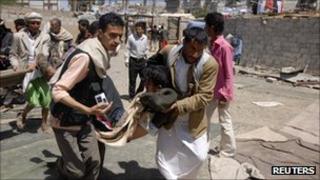 At least seven people are reported to have been killed in renewed violence in the Yemeni capital, Sanaa.
Medical officials said government forces opened fire on protesters, who have been staging mass rallies against President Ali Abdullah Saleh.
Witnesses said the protesters were approaching government buildings when they were attacked by security forces.
The latest casualties come a day after some of the worst fighting in Sanaa for weeks.
A doctor at the field hospital set up by protesters in Change Square said 50 other protesters had been wounded by live bullets, with many more affected by tear gas.
Demonstrators came under fire from gunmen and police as tens of thousands marched from Change Square to the loyalist-held al-Qaa neighbourhood, witnesses said.
Several government buildings are located in the neighbourhood.
Witnesses said thousands were trapped in a square, coming under fire from hundreds of loyalist forces.
The protesters were led by shirtless young men with the words "Leave, you butcher" scrawled across their chests, referring to Mr Saleh.
Protest leaders said demonstrations also took place in the southern cities of Aden and Taez, where one person was reported killed late on Monday.
Killings condemned
In a letter to United Nations chief Ban Ki-moon, Yemen's new Nobel Peace Prize winner, Tawakul Karman, called on the UN to take "immediate and decisive action to stop the massacres and hold the perpetrators accountable".
The UN Security Council is expected to consider a resolution later this week to "strongly condemn" the Yemen government's human rights violations.
Rupert Colville, spokesman for the UN High Commissioner for Human Rights, said he condemned "in the strongest terms the reported killing of a number of largely peaceful protesters in Sanaa and Taez as a result of the indiscriminate use of force by Yemeni security forces since Saturday".
"We are extremely concerned that security forces continue to use excessive force in a climate of complete impunity for crimes, resulting in heavy loss of life and injury, despite repeated pledges by the government to the contrary," he added.
Nearly 40 people have died since Saturday, including at least 18 people killed on Monday in fighting between troops loyal to Yemen's embattled leader and rival army forces who have joined the opposition.