Jordan King Abdullah appoints judge Khasawneh as PM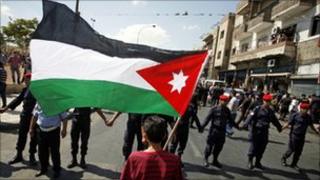 King Abdullah of Jordan has appointed a new prime minister following the resignation of Maarouf al-Bakhit.
Awn al-Khasawneh, a judge at the International Court of Justice, is Jordan's third PM this year.
Mr Bakhit stood down on Monday at the king's request, amid accusations he had failed to implement reforms.
On Sunday, more than 70 Jordanian MPs demanded that the king dismiss Mr Bakhit and the cabinet for failing to meet public demands for reform.
The BBC's Dale Gavlak in Amman says although the country has been spared the large-scale unrest witnessed in Egypt, Libya and other Arab countries, there have been strong popular calls for the people to have a greater say in politics.
More reform
Mr Bakhit, a conservative former army general, was appointed prime minister when protesters first took to the streets in February.
But he grew increasingly unpopular with mainstream politicians and a coalition of opposition groups drawn from tribal and Islamist backgrounds who accused him of mishandling domestic problems, including preparations for municipal elections that were to due to be held this year.
His replacement, Mr Khasawneh, 61, is a former chief of the royal court and a legal advisor to Jordan's team that negotiated the peace treaty with Israel in 1994.
He is seen as a respected figure, above domestic rivalries.
King Abdullah told his new prime minister in a letter that his government's top priority was political reform, say reports.
"I am entrusting you to form a new government that would enhance reform and modernisation," he said.
The king said he had accepted Mr Bakhit's resignation "taking into consideration the views of the various sectors of society as well as a letter we have received from the parliamentary majority".
Mr Khasawneh was to immediately begin consultations to form the new government, sources close to him said.
The king also appointed a new intelligence chief, Maj Gen Faysal al-Shubaki.