Syria: 'Renewed deadly clashes in Homs'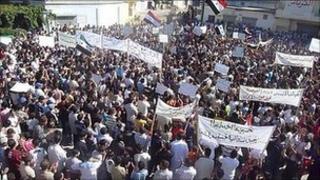 At least 21 people have been killed in renewed clashes in the Syrian city of Homs, activists say.
Victims included civilians and police, according to the UK-based Syrian Observatory for Human Rights.
The city, Syria's third largest, has been a focal point for unrest since protests broke out in March against President Bashar al-Assad.
Since then about 3,000 people have been killed in violence across the country, according to the UN.
Witnesses said tanks and armoured vehicles had been deployed in districts of Homs including Khalidya and Bab Sbaa on Monday.
One unconfirmed report said army snipers had shot dead two people who were on their way to the funerals of protesters killed by security forces the day before.
"Roadblocks have cut off every neighbourhood from another and random firing by troops manning them is common," a resident named as Manal was quoted by Reuters as saying.
The government says "armed terrorist groups" are operating in Homs, killing civilians and prominent figures.
The observatory's Rami Abdel Rahman also told AFP news agency that suspected army defectors blew up a military vehicle near Ehssem, in north-western Idlib province, killing an officer and three soldiers. The report could not be confirmed.
On Sunday, the Arab League called for talks between the Syrian government and opposition forces to take place within 15 days.
Arab foreign ministers at an emergency meeting in Egypt decided not to suspend Syria from the organisation.
Damascus has expressed reservations about the plan although it is facing mounting international pressure over the bloody crackdown.
Saudi Arabia and other Gulf states have already withdrawn their ambassadors from Syria in protest.