Saudi King Abdullah 'has successful back surgery'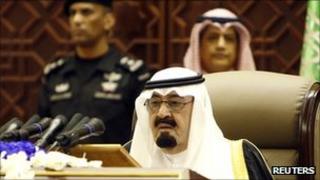 Saudi Arabian ruler King Abdullah has had successful back surgery in Riyadh, the official Saudi Press Agency (SPA) has said.
A royal palace statement said the operation on the 86-year-old monarch was to treat a loose vertebra in his back.
The king arrived at the hospital on Sunday night.
In February, the king returned to Saudi Arabia after spending three months abroad to receive medical treatment.
A picture distributed by SPA showed him using a walking stick, but otherwise appearing healthy.
Last year, King Abdullah went to New York at the end of November and had two operations to repair spinal vertebrae and a herniated disc.