Family reactions: Shalit prisoner swap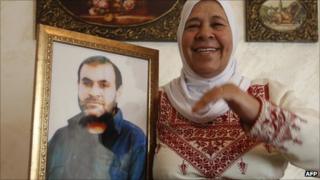 The process that will see the release of about 500 Palestinian prisoners in return for the Israeli soldier Gilad Shalit has begun.
The Palestinian prisoners have been named and are being gathered in two prisons ahead of their expected pardon and release on Tuesday. Another 550 Palestinians are expected to be released later.
Umm Ahmad Fares, the wife of prisoner Nafez Harez, who is set to be released, said the move had been a long time coming.
"We are happy because we put all our hopes in this deal after we had felt very frustrated. We did not expect this deal to materialise. We've waited 26 years to hear this news," she told the BBC World Service.
Samira Barghouti, wife of Nael Barghouti, agreed: "My husband has been in jail for 34 years and we have been waiting that long for this moment. I have dreamed about this moment for a long time and there were several prisoner swaps that did not include him.
"I was waiting for the deal of Shalit to be concluded, hour by hour, minute by minute, second by second. Finally, thank God, this deal included my husband. I salute the resistance and everybody who contributed to the deal."
But Hanan Barghouti, the sister of Nael Barghouti - the oldest prisoner due to be released - had some regrets.
"Of course I am very happy but at the same time I am sad because my brother is getting out of jail without finding my mother [alive]. Also my youngest brother is still in the Israeli jail. This is of course painful, but I'm still happy in spite of the occupation, and despite the occupation we will be happy and celebrate," she said.
Israelis who object to an individual prisoner release had 48 hours, starting from Sunday morning, to appeal to Israel's highest court to intervene.
Among them was Arnold Roth, whose daughter, Malka, was killed 10 years ago - when a suicide bomber attacked a pizzeria in Jerusalem. A woman convicted of involvement in the attack is among those due to be set free.
"We're aiming to have her name removed from the list," Mr Roth told the BBC.
"We're doing this principally because we think there is a colossal amount of misinformation about this specific woman.
"She's actually a monster, on really any view. She's cold blooded and charismatic, she's very attractive to look at and this has somehow bamboozled many of the people who've been reporting about her.
"She engineered the massacre that led to the deaths of 16 people and 130 injured. And she's been saying for at least five years: 'I'm going to get out. I don't regret a thing'. And she's also said: 'I would do it again'."
Mr Roth added that, in general, he did not think such prisoner exchanges had a place in civilised society.
"It has tremendously complex implications for the rest of us, including people who don't yet know that they're going to become terror victims," he said.
"These people who are released are going to become terrorists again. They're going to be inspirational. Many of them are iconic figures and we're going to pay a heavy price."