Syria uprising: UN says protest death toll hits 3,000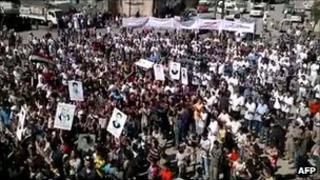 The United Nations says 3,000 people have been killed in Syria in the seven months of protests against the rule of President Bashar al-Assad.
UN High Commissioner for Human Rights Navi Pillay said at least 187 children were among the dead.
The UN also says hundreds of people have also been arrested since the protests began seven months ago.
Activists say at least 11 more protesters were shot dead by security forces as thousands rallied on Friday.
The demonstrations were called "Free Soldiers" - a reference to several thousand who have defected.
They called on those in the military to abandon President Assad's regime and join a dissident army.
The UN report said 100 people had died in the past 10 days.
The government in Damascus blames armed "terrorist gangs" for the trouble, and says 1,100 members of the security forces have been killed.
Emergency meeting
Six Gulf nations have demanded an emergency meeting of Arab foreign ministers on Sunday to discuss the ongoing unrest in Syria.
The 22-member Arab League has not yet approved the request but such meetings need only the approval of two members to take place.
The Gulf Cooperation Council (GCC) statement called for "steps that could help end the bloodshed and halt the machine of violence".
The GCC said the humanitarian situation had deteriorated sharply since a meeting of Arab foreign ministers on 13 September that had called on Syria to "immediately stop the bloodshed".
Ms Pillay warned that Syria's "ruthless repression" threatened to spark "full-blown civil war".
"The onus is on all members of the international community to take protective action in a collective manner," she said.
UN spokesman Rupert Colville added that hundreds of Syrians had been detained and tortured or had disappeared.
He said that families who supported the opposition had been targeted by the Syrian government both inside the country and abroad.
Resolution vetoed
A European-drafted UN resolution threatening "measures" against the Syrian regime if it did not end its repression of the protests was vetoed this month by China and Russia.
But both Beijing and Moscow have also recently urged Damascus to adopt promised reforms swiftly - a sign, correspondents say, that they too may be losing patience with the Assad government.
Mr Colville said that the diplomatic moves so far were "not producing results and people continue to be killed every single day".
He added: "Just hoping things will get better isn't good enough, clearly."
In its reports of violence from Thursday, the Syrian Observatory for Human Rights group said that at least 36 people had been killed, including 25 soldiers.
The worst violence was in the north-western town of Banash.
It said there were also deaths in Deraa, south of Damascus, and the central city of Homs, which has been one of the biggest flashpoints of the uprising.
On Friday, activists reported that at least seven people were killed when security forces opened fire on protesters in the town of Dael, near Deraa.
There were reports of other deaths in Deraa itself, from suburbs of Damascus and the northern town of Aleppo.
Although there has been some trouble in its suburbs, Damascus has not been so greatly affected as other areas in recent months.
Thousands of people rallied in the capital on Wednesday to back the president.