Clashes in Syria leave 19 dead - rights activists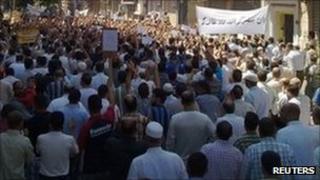 At least 19 people have been killed in continuing unrest across Syria, activists have said.
The UK-based Syrian Observatory for Human Rights said 10 people died when government troops attacked the northern town of Banash.
In the southern town of Haara, armed men killed at least nine soldiers.
The UN says nearly 3,000 Syrians have died since protests against the government of President Bashar al-Assad began in March.
Activists say tens of thousands of Syrians have been arrested.
The Syrian authorities have banned most foreign media, making it difficult to independently verify such reports.
The government in Damascus blames armed "terrorist gangs" for the trouble, and says 1,100 members of the security forces have been killed.
China and Russia earlier this month vetoed a European-drafted UN resolution threatening "measures" against the Syrian regime if it did not end its repression of the protests.
But both Beijing and Moscow have also recently urged Damascus to adopt promised reforms swiftly - a sign, correspondents say, that they too may be losing patience with the Assad government.