Egypt's army defends tactics in Coptic rally crackdown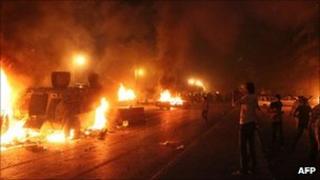 Egypt's ruling military council has denied that the army opened fire on and drove military vehicles into crowds during Sunday's deadly clashes between Coptic Christians and troops in Cairo.
Generals showed footage of an armoured personnel carrier swerving around protesters, saying if anyone had been crushed it would have been by mistake.
Earlier videos posted on the internet showed mangled bodies, with activists saying some victims had bullet wounds.
Twenty-five people died in the clashes.
The violence - the worst since the fall of President Hosni Mubarak in February - erupted as the Coptic Christians were protesting over an attack on a church in southern Egypt.
It is not clear how many of those killed were Christians, but the authorities said three soldiers were among the dead. Hundreds of people were injured.
'Guns and knives'
"The armed forces would never and have never opened fire on the people," Gen Mahmoud Hegazy, a member of the ruling military council, said during a news conference on Wednesday.
Pointing at footage of an army vehicle from the scene of the clashes, he stressed that "there has not been a case of rolling over people with vehicles".
"They are trying to avoid running into protesters, not rolling over them."
The general also said the video proved that soldiers had come under attack by demonstrators armed with guns, knives and rocks.
Sunday's protest and its handling by the authorities has drawn a storm of criticism of the army.
The military council is in temporary charge of the country while elections are organised.
The Copts, who make up about 10% of Egypt's 85 million population, have a number of grievances against the interim administration.
They say the authorities have been slow to punish radical Islamists who have attacked their churches.