Tawakul Karman: 'New face of Yemen'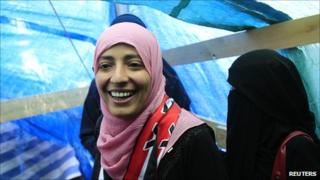 Just after sunset on Sunday, Yemeni pro-democracy campaigners gathered around the stage at the centre of Change Square, in front of Sanaa University, to celebrate Bint al-Yemen - the daughter of Yemen.
The campaigners, who have been in the square for the last eight months, say their cause has achieved international recognition through the awarding of this year's Nobel Peace Prize to their leading activist, Tawakul Karman.
People offering their congratulations address Ms Karman as "aunt" - a sign of the respect in which she is held.
In her tent a few minutes walk from the stage, Ms Karman was surrounded by supporters. She was being treated like a star and, two days after winning the prize, it was still difficult to get to see her.
"She is very busy, and has lots of interviews and will need to leave shortly," one of her assistants told me, preventing me from getting in to her tent. But I finally made my way through.  
I had visited Ms Karman at her home in February as demonstrators were preparing for one of their many days of protest. She had just been detained for a day and told me the police were watching her movements.
Nevertheless, she was defiant and determined.
On Sunday, as she prepared for the celebration, she told me: "I am very proud of the prize and feel all our efforts have made a difference. It is a prize for Yemen, Yemeni youth and women."
She was surrounded by her children who seemed thrilled that their mother had become internationally famous.
"I feel very happy and I want to be like my mum in the future," her 14-year-old daughter said.
As Ms Karman walked out of her tent towards the main square, clapping and chanting broke out.
"They are happy because they won. Now the entire world recognises the revolution. I am happy for them, not just for myself," she said.
"Yemeni people want the world to respect them, they are not terrorists, not violent - and this award gives them the victory for the revolution."
As she reached the stage, her supporters chanted: "We won the Nobel Peace Prize."  
World attention
The Yemenis I spoke to were proud of the positive international recognition the Nobel Prize has brought, after years of being associated mainly with al-Qaeda.
"It is an honour for Yemen and for all women for the prize to focus on us," one woman said.
Ismail al-Moayad, in his 20s and studying English literature at Sanaa University, felt Ms Karman had given Yemen a new face.
"We are not seen as the bad people anymore, this is so great for our cause," he said.
But there is a different view on Ms Karman - although almost everyone, including many of President Ali Abdullah Saleh's supporters, are happy she received the prize.
"She has a strong character, but lacks the basic principles of leadership," one protester at the square said.
"She often does things the way she likes and doesn't listen to people's views. She is a dictator calling for freedom," he said.
And this view seemed to be echoed elsewhere.
"It is great that she got the prize and we are very happy for her, but we hope she can now change her way of working," said a women's rights activist who asked not to be named.  
"She was very aggressive and exlusive in her attitude, but now she needs to be a role model for the country."
Outside the square, ordinary Yemenis continue with their struggles to get by in the Arab world's poorest country, which is descending into an ever deeper political, economic and humanitarian crisis.
Ali, a taxi driver who used to own a tourism company, said: "I am so proud that a Yemeni woman got this prize, but this is not going to change realities on the ground; business is dead and we want to get on with our lives."