EU welcomes Syria opposition council as 'positive step'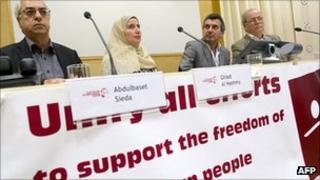 The EU has welcomed the formation of the opposition Syrian National Council (SNC) as "a positive step forward".
The statement, agreed by EU foreign ministers meeting in Luxembourg, called on other countries to do the same.
It comes a day after Syria warned it would take "tough measures" against any country that recognised the SNC.
Meanwhile, heavy gunfire has again been reported in the central city of Homs. At least 31 people died in shootings across Syria on Sunday, activists say.
The formation of the SNC, a coalition of seven Syrian opposition factions, was announced just over a week ago in Istanbul.
Correspondents say that although short of outright recognition, the EU statement ramps up pressure on Damascus.
The statement said the EU "welcomes the efforts of the political opposition to establish a united platform" and notes the creation of the Syrian National Council (SNC) "as a positive step forward".
It calls on the international community to also welcome these efforts.
"It is not on the same lines as our recognition of Libya's National Transitional Council," an unnamed European diplomat said was quoted as saying by the AFP news agency.
"But we needed to make a gesture to the SNC to counter the regime's bid to create puppet groups."
'Different opinions'
The SNC itself said on Monday it had agreed a democratic framework for a future Syria and called for international observers to be allowed into the country.
It also agreed that President Bashar al-Assad's regime should be overthrown and that Syria's minorities must have legal protection, said Jens Orback from the Olof Palme International Center, which hosted the weekend meetings in Stockholm.
Council member Abdulbaset Sieda told reporters in Stockholm that the warning of "tough measures" for recognising the SNC showed that Mr Assad's regime feared the opposition coalition.
"We will fight together against the regime because all of us agree that this regime belongs to the past," he said.
"There are some different opinions about the mechanism - in what way this should be done - and we discussed [those things] here in Stockholm."
The UK-based Syrian Observatory for Human Rights (SOHR) said those killed in violence on Sunday included 14 civilians and 17 security personnel.
The group said that heavy machinegun fire overnight and early on Monday in Homs had partially destroyed at least five houses in the Bab Sabaa district. It said security forces had raided houses in the Khalidiya neighbourhood and made arrests.
The BBC is not able to confirm the reports.
Nearly 3,000 people have died since protests against Mr Assad's regime began in March, the UN says.