Mounting hostility behind Egypt's violent protests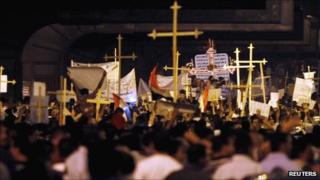 Many aspects of the latest violence in Egypt were familiar. Coptic Christians have long felt marginalised in Egyptian society, and sectarian tensions have become increasingly common since the fall of the Mubarak government.
What was unusual was how some Copts evidently began to turn against the military. This was in part a rally fuelled by anti-government feeling.
The death toll of 24 people also makes this the worst violence at a protest sparked by a sectarian attack of this kind in decades.
"These were horrible, bloody clashes, the worst we've seen since the '70s," says a Coptic journalist, Ishaq Ibrahim.
"There was no reason to see this number of dead. We had Muslim groups participating with us in the rally. It was meant to be peaceful."
Many Christians believe there is sympathy between radical Islamists and elements within the security services. They are angry at what they see as repeated failures to protect members of their faith.
In his late-night television speech, Prime Minister Essam Sharaf lamented the search was back on for "hidden hands - domestic and foreign - that meddle with the country's security and safety".
However, his ministers - and Egypt's ruling generals - will have to reflect on the badly handled military response.
Official complacency?
Among the many disturbing images posted on YouTube, there is footage of an armoured security personnel vehicle slamming into a crowd of protesters.
There are also unanswered questions about why Salafist groups - which have become increasingly prominent in Egypt - have recently felt able to show greater, open hostility towards the Christian minority.
Coptic Christians organised Sunday's demonstration after a church was set on fire near Aswan last week. Local Muslims insisted it did not have the proper construction permits.
In the past few months, security services have repeatedly been accused of failing to intervene to stop sectarian clashes across the country.
The transitional government is also accused of doing little to address the long-standing grievances of Christians.
These include complaints about restrictions on building churches and a school curriculum focused on Islam.
Speaking on al-Arabiya television, Fouad Allam, the former head of Egypt's security services, gave a stark warning.
"There needs to be serious action from the leaders to resolve the root causes, otherwise this could lead to civil war," he said.
Call for dialogue
Analysts trace the rise in sectarian violence to the growth of Islamic movements in the 1970s.
In turn, they say, the violence encouraged many Christians to turn inwards and rely on their own community.
Widespread poverty exacerbates the situation. Often disputes over land and inter-faith relationships spill over to split entire neighbourhoods along religious lines.
Egyptian newspapers were quick to point out the high stakes in restoring calm and order - with the country due to begin parliamentary elections late next month.
"A black night for Egypt's revolution" was the headline in the independent daily, al-Shorouk.
With Egypt already facing an economic crisis, the stock exchange also took a blow. It suffered its biggest slide since March, when it reopened following a seven-week shutdown.
Religious leaders, including the grand imam of al-Azhar, Ahmed al-Tayab, are now joining politicians calling for national unity and inter-faith dialogue.
Ordinary people are also joining in the reconciliation effort - which first became visible after a shocking bomb attack at a church in Alexandria at the beginning of 2011.
Some are wearing stickers that show a Christian cross and a Muslim crescent combined and have reposted the picture on their Facebook pages.
The words underneath read "Ana Misri": "I am Egyptian".