Dozens killed in Syrian clashes, activists say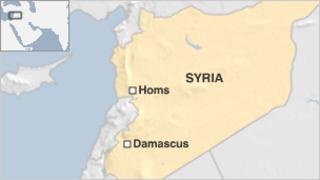 At least 31 people were killed across Syria in a series of shootings on Sunday, Syrian activists say.
The UK-based Syrian Observatory for Human Rights (SOHR) they included 14 civilians and 17 security personnel.
Seven civilians died in the central city of Homs and the troops were killed in clashes with mutinous soldiers refusing to shoot on protesters, they said. There is no confirmation.
Nearly 3,000 people have died since the protests began in March, the UN says.
"It was like a war scene in Homs where blasts and sound bombs were heard all over town, with heavy machine-guns also being fired," a statement from the Local Coordination Committees (LCC), which organises protests on the ground, said.
"A lot of homes were destroyed... Security agents and pro-regime militias prevented ambulances from evacuating the wounded," the LCC said.
The SOHR said the suspected deserters had killed eight soldiers in simultaneous attacks on three army posts in the northern province of Idlib.
Last week, the United Nations human rights office said the death toll in Syria had risen to more than 2,900 people since the pro-democracy protests began.