Syrian Kurdish activist Mishaal al-Tammo shot dead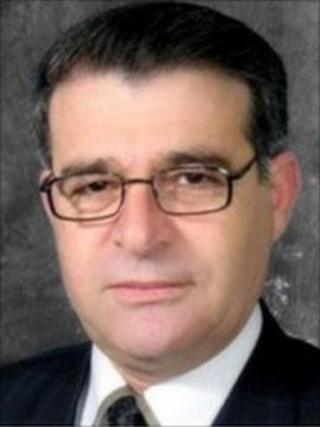 Gunmen have shot dead prominent Syrian Kurdish opposition figure Mishaal al-Tammo in his home in Qamishli, north-eastern Syria, activists say.
Anti-regime activists said four men entered his home and opened fire.
The US state department blamed the Syrian authorities for the deaths, reportedly calling the killing a "clear escalation of regime tactics".
Meanwhile, at least eight people were killed in protests following Friday prayers.
The deaths occurred in the central city of Homs, the Damascus suburb of Douma and in Zabadani, near the Lebanese border, activists reported.
Mr Tammo's son and a fellow Kurdish political activist were wounded in Friday's shooting, reports said.
Mr Tammo was in the Kurdish Future party and had recently been released after spending more than two years in jail.
He was also a member of the executive committee of the newly formed Syrian National Council, a broad front bringing together opposition figures inside and outside the country in an attempt to unite the dispersed dissident movement.
It is not clear who was behind the attack. Mr Tammo was a vocal critic of President Bashar al-Assad and had also angered powerful Kurdish parties.
In an interview in July with kurd.net, he urged all fellow activists to focus on overthrowing the regime but also criticised other Kurdish politicians, saying "Kurdish party officials have contributed to the weakness of the Kurdish opposition" in the current struggle in Syria.
But Washington cited Mr Tammo's death and the beating on Friday of another leading opposition figure, Riad Saif, as evidence that the Syrian regime was increasingly boldly targeting its opponents.
"This is a clear escalation of regime tactics," state department spokeswoman Victoria Nuland told reporters, according to AFP news agency.
"We've obviously had a number of opposition folks arrested. We have had reports of torture, beatings, etc, but not on the streets in broad daylight," she added.
The tactic is "clearly designed to intimidate others".
Mr Tammo's death could further inflame protest, correspondents said.
Thousands of outraged people took to the streets of Qamishli in protest after news of Mr Tammo's death spread, AP news agency reported, many shouting "Azadi!", the Kurdish word for "freedom".
President Assad granted nationality to thousands of stateless Kurds in eastern Syria in April in a bid to address some of the grievances fuelling opposition to his regime.