Bahrain teenager dies in Manama protests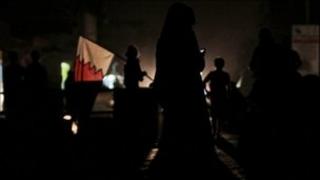 A 16-year-old Bahraini teenage has died during protests in the capital, Manama, officials and activists said.
The interior ministry said Ahmed Jaber died of cardiac arrest on Thursday as police clashed with youths who had blocked roads and set bins on fire.
But Shia activists say he was killed by a bird-pellet shot fired at close range by security forces.
Bahrain's ruling monarchy put down a pro-democracy uprising in March, but protests continue.
About 40 people have died in clashes or in custody since the unrest began in February, according to the Bahrain Center for Human Rights (BCHR).
Photo distributed
In a statement, the interior ministry confirmed Jaber's death on Friday and said it was being investigated.
"Doctors were unable to resuscitate the young man and attributed the cause of death to cardiac arrest," it said.
Prosecutors had ordered the transfer of his body to the Salmaniya Medical Complex for an autopsy, it said.
The ministry said police had fired tear gas and sound grenades at about 20 young protesters who had blocked a road in Abu Saiba neighbourhood in western Manama.
It claimed that security forces were attacked when they intervened.
"When police arrived on the scene, they were attacked with Molotov cocktails and rocks. Police responded with tear gas and sound grenades to disperse the crowd," the ministry said.
But activists, who distributed a photo of his body in a morgue, said Jaber had died of bird-shot pellets.
"[He] was shot by the security forces at close proximity during a protest with the pellet shotgun, which seems to have penetrated his heart and/or lung and caused his death," Maryam al-Khawaja of the BCHR said in a statement cited by AFP news agency.
Bahrain has arrested hundreds of people since Shia-led demonstrations against the ruling Sunni monarchy in February.
Dozens have been handed lengthy jail terms, while at least five have been sentenced to death.
Earlier this month, Bahraini authorities ordered a retrial for 20 medics after they were given jail sentences of up to 15 years, sparking international outcry.