Syria unrest: Woman reported dead 'appears on TV'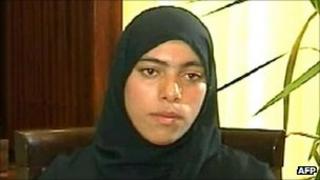 A woman claiming to be the 18-year-old pronounced by activists to be dead and mutilated has appeared on Syrian TV.
A woman identified as Zainab al-Hosni said she had run away from home, and decided to speak out after seeing a report that she had been beheaded.
Amnesty International and other groups said last month that Zainab al-Hosni had been killed and dismembered.
Amnesty says if she is alive, Syria should disclose the identity of the dismembered body they thought was hers.
Ms Hosni had been described as the first woman to be killed in custody during Syria's uprising, which began in March.
She was identified as coming from the restive central city of Homs, and quickly became an iconic figure in the protest movement against Syrian President Bashar al-Assad's rule.
She was said to have been targeted in order to pressure her brother, an activist, to turn himself in.
Authorities gave her family a decapitated body for burial, Amnesty said.
'Lying satellite television'
The group said on Wednesday that it was looking into the case.
Both Amnesty and Human Rights Watch cited Ms Hosni's family as saying the woman who was shown on TV did indeed appear to be her.
Neil Sammonds, a researcher on Syria for Amnesty, said it was therefore unclear whose body had been handed to the family.
"We think the only way really to ascertain the facts here is for human rights organisations such as ourselves to be allowed into the country to determine what the circumstances of the deaths were," he told the BBC.
The woman interviewed on state TV said she had escaped from home because she was beaten by her brothers, and that her family did not know that she was alive.
"I came today to the police to say the truth," she said. "I am alive in contrast to what the lying satellite television stations had said."
She held up an ID card, and state TV said her death had been fabricated "to serve foreign interests".