Egypt blogger Maikel Nabil 'ailing' from hunger strike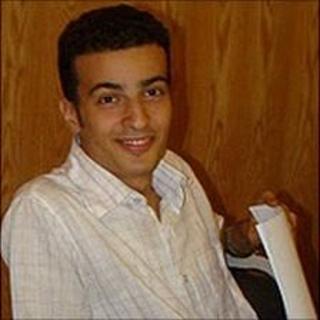 The family of a jailed Egyptian blogger have said his health is seriously at risk, as a military tribunal adjourned a court hearing for three weeks.
Blogger Maikel Nabil has been on a hunger strike since 23 August and according to his brother, he could refuse water if he is not freed.
Reporters Without Borders said he was suffering from serious health problems.
A military court sentenced Nabil, 26, to three years in prison for criticising the armed forces.
It was the first trial of a blogger by a military court after the Supreme Council of the Armed Forces assumed control following the toppling of Hosni Mubarak in February.
Tuesday's hearing was adjourned because a file on the case had not arrived in court on time, brother Mark Nabil said.
"This is a death sentence for Maikel because he said if he weren't released on 4 October he'd refuse water," he told the BBC.
"It's not our fault they're not ready, why should my brother stay in jail because someone forgot to put the file on the judge's desk."
Reporters Without Borders said Nabil - "Egypt's first prisoner of conscience" - was suffering from renal problems, anaemia and scabies, and that he had been denied a medical check.
"This appeal is the last chance for the authorities to show a commitment to human rights, justice and democracy," the group said in a statement.
Human Rights Watch says almost 12,000 civilians have been brought before military tribunals since January - more than the total number of cases during Mr Mubarak's 30 year rule. Egypt's ruling military council says it is considering whether to end the practice.