Syrian grand mufti's son mourned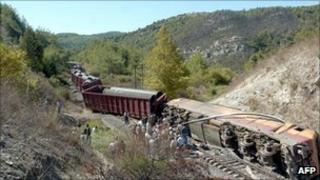 The funeral has been held for the son of the grand mufti of Syria, shot dead along with a history professor on Sunday near the city of Aleppo.
In a tearful sermon carried live on TV, Grand Mufti Ahmad Hassoun expressed support for President Bashar al-Assad, praying the killers would repent.
Appointed to his post by the government, the grand mufti is the country's top Sunni Muslim cleric.
The deaths came amid signs of growing violence around Syria's uprising.
Several scientists in the central city of Homs were among the victims of a string of recent targeted killings.
Saria Hassoun and Professor Mohammad al-Omar were ambushed and assassinated by "an armed terrorist group" while driving to university on the highway between Aleppo and Idlib, Syria's state news agency Sana reported.
The Syrian Observatory for Human Rights, an activist group, blamed Saria Hassoun's death on "unknown assailants".
The government regularly says "armed gangs" and "terrorists" have been behind the past six months of unrest and protests against President Assad's rule.
Aleppo, Syria's second city and a commercial hub, has seen less unrest than other parts of the country, though nearby Idlib has been a focus of protests.
The state news agency also reported on Sunday that "armed terrorist groups" had killed five members of the security forces near the city of Hama, and had used explosives to derail a train in the north-western province of Idlib.
Foreign journalists have been largely prevented from working in Syria, and reports from inside the country are hard to verify.