Is the Syria uprising heading towards civil war?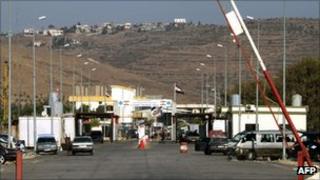 Syrian refugees living in Lebanon say that anti-government protesters, trying to bring down President Bashar al-Assad, are resorting increasingly to the use of force.
"There will definitely be a civil war," said one middle-aged refugee.
He was sitting amidst a group of Syrians who had all walked to Lebanon. Like the others, he did not want to be photographed or give his name.
The men, Sunni Muslims, moved from the Syrian village of Hitt, just a kilometre (0.6 mile) from the border, over the last six months. Having crossed over, they are staying with friends and relatives.
The men said that the Syrian army presence in and around Hitt meant there were now only women and young children living there.
"I am only metres from my family and my home and yet I can't reach them," one man said, the pitch of his voice rising with emotion. "All we can do is fight, no matter what the consequences."
Army attacked
Last week some of the refugees made good that promise.
When some of their wives tried to cross the border, they were stopped by Syrian soldiers who insulted them, asking whether they were going to see their menfolk for sex.
Enraged, their husbands gathered a group of 15 men and that night attacked an army encampment near Hitt.
The gun battle lasted for four hours. Some bullets were fired over the border and hit the walls of Lebanese homes.
Only two of the refugees were injured in the exchange of fire, which had no strategic significance. But it did illustrate how the opposition in Syria is increasingly willing to use arms.
The UN High Commissioner for Refugees estimates there are 3,800 Syrian refugees in Lebanon but the true number could be far higher, because many have not registered with the agency or the Lebanese authorities.
As the refugees from Hitt spoke, they looked across the border at their village which is so small it has just one mosque.
Farmers or smugglers
The men chain-smoked and threaded worry beads through their finger whilst using mobile phones to constantly talk to people on the Syrian side of the border, trying to glean news as to what was happening.
"There are only two types of men in Hitt," one of the refugees said. "Those who work in the fields and those who smuggle."
Good profits can be made from moving petrol from Syria to Lebanon where it is considerably more expensive.
So which of the two occupations did he do? "Me?" he replied, a twinkle in his eyes, "I am a human rights worker."
One of the men refused to talk, saying only: "You are not giving us weapons, so what is the point of doing an interview?"
Having made his point he wandered off.
The men from Hitt said that 11 villagers - an officer and 10 conscripts - had been in the army but all had defected.
"No-one goes back to the army from leave," one refugee said. "They go to hospital and pretend to be ill."
None of the former soldiers from Hitt are fighting, however. Instead they are sitting it out in Lebanon, waiting to see what happens.
"They are just 18 years old," one man said: "they are not going to fight."
Violent battles
But in some Syrian cities, there have been violent battles between the army and defectors.
The central cities of Homs and Rastan have emerged as the places putting up the most armed resistance to the regime.
The government reasserted its control in Rastan on Saturday after five days of intense fighting. There are reports of frequent armed clashes in Homs.
Most of the defecting soldiers who have managed to leave Syria have gone to Turkey where they have formed a Free Syrian Army.
It's not clear how many men the army has under its command or whether it has any prospect of becoming an effective fighting force.
From the very start of the anti-government protests in Syria more than six months ago, there was an armed and violent element in the opposition. The question is to what extent that element has grown?
Many protestors insist they want their revolution to remain a peaceful one.
Their difficulty is that so far, in spite of considerable loss of life, there is no sign of an end to the stalemate between the forces of change and continuity in Syria.
Syrian officials say over 800 police and soldiers have been killed. That compares with over 2,700 civilians, estimated by the United Nations.