Mosque in northern Israel in 'price tag' arson attack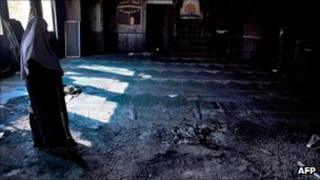 A mosque in northern Israel has been torched and sprayed with graffiti, in a suspected attack by Jewish extremists.
Hundreds of residents from the village of Tuba-Zangariya marched in protest against the attack, and there were reports of clashes with the police.
Israeli Prime Minister Benjamin Netanyahu's office said he was "outraged" by images from the village.
Police said it appeared to be a "price tag" attack - a reference to a violent campaign by Jewish settlers.
The attack on the mosque happened in the early hours of Monday.
"The whole mosque was burnt - the carpet, the books, the Korans, all burnt," the village imam, Fuad Zangariya, told Israel's Army Radio.
The words "Revenge", "Price Tag" and "Palmer" were reported to have been written in Hebrew on the mosque walls.
The latter was an apparent reference to a car crash on 23 September in which Israeli settler Asher Palmer and his one-year-old son were killed after Palestinians threw stones at their car.
"Price Tag" attacks, carried out against any policy to reduce the presence of Jewish settlers and settlements on occupied Palestinian land in the West Bank and East Jerusalem, have increased in recent months.
Most happen in the West Bank, though a similar incident took place in the Arab Israeli village of Iblin last year.
Police said they had already arrested a number of suspects in connection with Monday's attack.
Arab Israelis account for about 20% of Israel's population.
In reaction to the attack, Mr Netanyahu said: "This is an act which is against the values of the state of Israel, which places supreme importance on freedom of religion and freedom of worship."
Northern District Police Commander Roni Attia described the incident as "a very severe price tag incident".
Israeli police said residents of Tuba-Zangariya had marched out of the village, throwing stones at the security forces and burning tires.
Police responded by firing tear gas.