Iraq police siege in al-Baghdadi ends with nine dead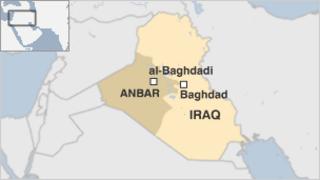 An assault by insurgents on a local government compound in western Iraq has ended with at least nine people dead, including all six attackers.
At least three people taken hostage by the insurgents were killed.
The gunmen had disguised themselves in police uniforms before attacking the compound in al-Baghdadi, 150km (90 miles) north of the capital Baghdad.
Anbar was at the core of the insurgency which wracked Iraq following the US-led invasion in 2003.
Second attack
Both police officers and civilians were among those taken hostage.
A police chief is believed to be among the dead.
Two of the six attackers were suicide bombers who detonated their explosives in the initial onslaught, officials said.
The others opened fire as soon as they entered the building.
It was not immediately clear if the hostages had been killed during the initial attack or during fighting when soldiers retook the complex, Reuters news agency reports.
The mayor of al-Baghdadi told the Associated Press he had grabbed his mobile phone and locked himself in a bathroom when he heard the shooting.
"Some of the terrorists entered my office and one of them picked up my landline phone when it was ringing and said: 'We are the fighters of the Islamic State of Iraq,"' Muhanad Zbar Mutlaq told AP. The Islamic State of Iraq is a front group for al-Qaeda.
Iraqi officials said insurgents had also attacked a police station in Dolab, about 15km away, just as the first attack ended. The militants were repulsed, with two of them killed, the officials said.
Violence in Iraq has fallen sharply since the insurgency was at its peak. However, Sunni Islamist militants and radical Shia militias still carry out daily attacks.
Official buildings are frequent targets for insurgents seeking to destabilise the Shia-dominated government.
Anbar is a vast desert province, predominantly Sunni and formerly a stronghold of Iraq's al-Qaeda affiliates.
The last US troops are scheduled to withdraw from Iraq by the end of 2011, although the US and the Iraqi government are in talks over whether to retain a limited American presence into 2012.