Egypt's ruling council 'to amend disputed election law'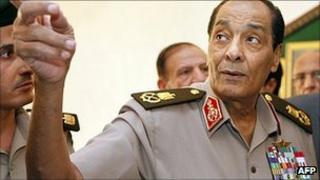 Egypt's ruling military council has decided to amend an article of an election law, state media report, following demands from protesters.
The law allows a third of seats to be filled by independent candidates rather than political parties.
Political groups - who fear the law could allow supporters of Hosni Mubarak to return to power - had threatened to boycott polls unless it was altered.
Parliamentary polls begin next month and take four months to complete.
The council, headed by Field Marshal Mohamed Tantawi, had been given until Sunday to change the law.
The decision came after a meeting with dozens of political parties, state media reported. No further details were given.
Emergency law
Correspondents say the interim military government, which has held power since President Mubarak was toppled in a popular revolt, is under pressure to deliver faster democratic reforms.
On Friday, thousands of people protested in Cairo's Tahrir Square, demanding a transfer to civilian rule.
A coalition of political parties, including the Muslim Brotherhood's Freedom and Equality party, had demanded that parties be allowed to contest all seats.
"We reject participation in the elections unless the article is changed," said a statement, signed by a coalition of The Democratic Alliance - which includes 37 parties - and the Freedom and Equality party.
Many Egyptian political groups say voting for a party rather than a single candidate will make it harder for former members of Mr Mubarak's now-outlawed party to run.
The council has also reportedly said it will study the status of Egypt's emergency law, which political groups want to see lifted.
The emergency laws were reactivated earlier this month after protesters ransacked the Israeli embassy in Cairo.
Earlier this week, US also called on the government to lift the state of emergency, with Secretary of State Hillary Clinton saying it should happen before the planned date of June next year.
Elections are due to begin on 28 November.