Syria unrest: Troops 'control rebel town of Rastan'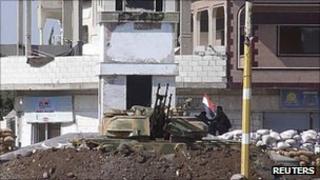 Syrian forces have regained control of the central town of Rastan after days of fighting with defectors who had joined protesters, state media say.
Earlier, human rights activists said troops had taken much of the town after the defectors had pulled out of the town in restive Homs province.
Dozens of tanks and armoured vehicles had entered, reports say.
Meanwhile, opposition members have met in Turkey to forge a united front against President Bashar al-Assad.
The Syrian National Council, a group created this year, have begun a two-day meeting to elect a leadership.
A fresh wave of protests erupted after prayers on Friday in cities across Syria, leaving at least 18 people - protesters and troops - dead, activists said.
'Heavy gunfire'
"Calm and security have returned to Rastan after security police backed by army units entered the town and confronted the terrorist groups who have terrified its inhabitants," the official news agency Sana said, quoted by Reuters.
Rami Abdel-Rahman, head of the Syrian Observatory for Human Rights, said that after five days of fighting, Rastan, 180km (120 miles) north of Damascus, was now mostly under control of government forces.
Foreign journalists are restricted from operating freely in Syria and the reports cannot be independent verified.
Reports also suggest that land and mobile phone lines in Rastan - a town of 40,000 - have been cut.
Mr Abdel-Rahman said a resident who fled Rastan early on Saturday reported heavy gunfire through the night.
Seven soldiers and members of law-enforcement agencies were killed in Rastan, among them two officers, while 32 others were wounded, Sana quoted a military officer as saying.
In a separate report on Sana, the government denied claims it had used air power.
Much of the fighting has reportedly been between the military and soldiers who defected to the opposition to protect protesters from the assault.
Correspondents say Syrian security forces have mostly remained loyal to President Assad, but deserters have formed their own units around Rastan, regarded as a recruiting ground for Sunni Muslim troops for the army.
The military is dominated by officers from the minority Alawite sect, of whom the Assad family are members, but most troops are Sunnis.
'Targeted measures'
Analysts have expressed concern that the revolt in Syria, which began peacefully six months ago, is evolving into an armed conflict.
On Saturday, Syria's state news agency reported that three security personnel who had tried to defuse a bomb near Damascus and two civilians working with police were killed.
Anti-government groups said two protesters were killed near Damascus.
The BBC's Owen Bennett-Jones, on the Lebanese-Syrian border, says there was a violent element to the opposition six months ago, and that element is growing.
The question now is what proportion of those determined to overthrow President Assad believe they will only be able to do so by using weapons, he says.
On Friday, the draft of a UN Security Council resolution against the violence in Syria was watered down, with a reference to sanctions being removed in order to appease Russia.
European nations instead called for "targeted measures" in the text, which Russia and China have threatened to veto.
Mr Assad has faced mounting international criticism for his crackdown on protesters.
The UN estimates that more than 2,700 people have been killed across Syria since the protest movement began. Syria blames the violence on "armed gangs".