Syria unrest: Heavy clashes erupt in Homs province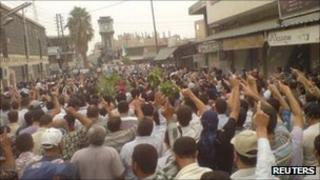 Heavy fighting has taken place between the Syrian army and opposition activists in central Homs province, as anti-government protests continue.
In Rastan, seven soldiers and police were reportedly killed battling troops who had defected to the opposition.
At least 11 protesters died after thousands took to Syrian streets after Friday prayers, activists said.
Meanwhile, the US has rebuked Syria over an attack on US Ambassador Robert Ford on Thursday.
A US state department spokeswoman said the Syrian ambassador was summoned on Friday and told that "an attack on Ford is an attack on the United States", and said that the US had asked for compensation for the incident.
Mr Ford was pelted with stones and tomatoes by a mob loyal to President Bashar al-Assad ahead of a meeting with an opposition figure in Damascus.
'Restoring security'
Correspondents say the demonstrations in Syria, which began peacefully six months ago, are becoming increasingly violent as protesters grow frustrated at the lack of any tangible reform.
State news agency Sana quoted a military spokesman as saying that seven soldiers and members of law-enforcement agencies had been killed in Rastan, among them two officers, while 32 others were wounded.
"In a specific operation, the army units have successfully fulfilled their duties, arresting a number of the armed groups' members, seizing their weapons, explosives and different ammunitions," he said.
"The army members are pursuing the terrorist groups to restore security and stability to Rastan and its citizens," he said.
Reports from Rastan, a town of 40,000, indicate that army defectors have been fighting government forces to protect the protesters.
Correspondents say Syrian security forces have mostly remained loyal to President Assad, but deserters have formed their own units around Rastan, 180km (120 miles) north of Damascus, regarded as a recruiting ground for Sunni Muslim conscripts for the army.
The military is dominated by officers from the minority Alawite sect, of whom the Assad family are members, but most troops are Sunnis.
Residents in Rastan told Reuters news agency at least 1,000 army deserters and other armed men were fighting the government forces.
At least eleven protesters were killed across the country, mainly in the central cities of Homs and Hama, according to the UK-based opposition group the Syrian Observatory for Human Rights.
"People seriously wounded in Rastan were unable to receive medical care because of the continuing military operations," the group said.
Resolution watered down
Thousands of protesters came out onto the streets after prayers on Friday across Syria, including the capital, Damascus.
"Oh God, give victory to Syria and Yemen, Oh God... let [Yemeni President Ali Abdullah] Saleh and Bashar fall," they chanted as they emerged from mosques in Damascus.
In the northern province of Idlib, a sign proclaimed "Rastan is the bastion of free men, despite you, Bashar", Reuters reports.
The BBC's Owen Bennett-Jones on the Syrian-Lebanese border says that when the protest movement began in Syria, opposition activists stressed that theirs was a peaceful protest movement determined to use non-violent methods to overthrow the government of President Assad.
But, he says, after six months the tactic has produced only promises of reform from the government.
That has led some in the opposition to argue that to achieve change they need to use more force, our correspondent says.
US state department spokeswoman Victoria Nuland said Syrian Ambassador Imad Mustapha had been summoned in Washington after Mr Ford was targeted by a pro-government protest in Damascus.
Mr Mustapha "was reminded that Ambassador Ford is the personal representative of the president (Barack Obama) and an attack on Ford is an attack on the United States," Ms Nuland said.
"He was also asked for compensation for our damaged vehicles," Ms Nuland said, adding said "a very strong set of representations were made again about their Vienna convention responsibilities" to protect US diplomats.
Mr Ford - who was unharmed - was targeted outside the office of opposition figure Hassan Abdul Azim, who heads the outlawed Arab Socialist Democratic Union party.
Meanwhile, diplomats in New York watered down a UN resolution condemning the violence in Syria, removing a reference to a recommendation made by UN Human Rights chief Navi Pillay that the council should consider referring Syrian authorities to the International Criminal Court.
Russia has however said it will not back the latest version, Reuters reports.
The UN estimates that more than 2,700 people have been killed across Syria since the crackdown began.