US ambassador Robert Ford pelted with tomatoes in Syria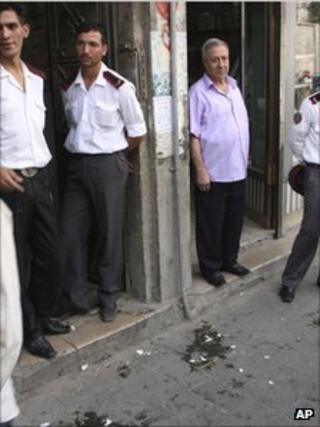 Supporters of Syrian President Bashar al-Assad have thrown tomatoes and eggs at US ambassador Robert Ford as he met an opposition figure in Damascus.
Veteran politician Hassan Abdul Azim said about 100 protesters tried to get into his office as Mr Ford arrived and then surrounded it, trapping them both.
US officials said the "mob was violent" and seriously damaged embassy vehicles, but that Mr Ford was unharmed.
Earlier, Syria accused the US of inciting violence against its military.
"Recent statements from American administration officials... clearly indicate that the United States is involved in encouraging armed groups to practice violence against the Syrian Arab Army," a foreign ministry statement said.
It is thought the statement was referring to comments made by US state department spokesman Mark Toner, who said on Tuesday that it was "not surprising" that the opposition were using violence against the military.
Mr Ford has angered Damascus in the past, notably by visiting the central city of Hama with his French counterpart in July.
It led to both the French and US embassies coming under attack from supporters of the Assad regime.
International pressure
Mr Abdul Azim, who heads the outlawed Arab Socialist Democratic Union party, said the ambassador's arrival at his office on Thursday led to a demonstration.
"They were protesting in the street and at the entrance to the building. They tried to break down the door of my office, but didn't succeed," he told AFP news agency.
"As soon as the ambassador came in at around 11:00 (08:00 GMT) we heard a noise outside and hostile slogans being chanted. The demonstrators tried to attack the office."
The US State Department said Mr Ford and his colleagues had been assaulted "as they went about doing the normal work of any embassy".
"The mob was violent: it tried, unsuccessfully, to attack embassy personnel while they were inside several embassy vehicles, seriously damaging the vehicles in the process," Mr Toner said in a statement.
"Syrian security officers finally assisted in securing a path from the ambassador's meeting for him and his aides back to the embassy."
Syria is under international pressure to stop using force to suppress protests that began six months ago.
The UN estimates that more than 2,700 people have been killed across Syria since the crackdown began.
The government says it is in the process of introducing reforms and is speaking to members of the opposition - it blames the unrest on armed gangs.
The BBC's Lyse Doucet has been granted rare access to Syria and says opposition figures she has spoken to in Deraa - where the protests began in March this year - told her they have had no dialogue with the authorities.
They also question whether negotiations can be held while government troops are killing people in the streets, says our correspondent.
The UN Security Council is set to vote on a Europe-led resolution which demand an "immediate end to all violence" by the state, and threatens more sanctions against Mr Assad and his inner circle if they do not comply.
The EU and US both already have sanctions in place.