Back to school in a new Syria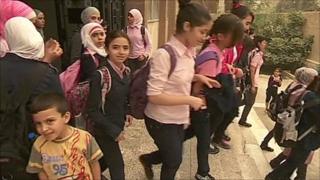 Justin Bieber graffiti is scrawled across the walls of the Darwish al-Zouni girls' school, along with the beloved teenage mantra BFF - best friends 4ever.
In that way, it is no different from girls' schools anywhere. But this Syrian school year began on a far more discordant note as schools were drawn into the wave of unprecedented protest across this country.
Our government minders took us to Darwish al-Zouni in the heart of the capital, Damascus.
In the morning's French language class, attentive high school students were absorbed in the day's lesson, which happened to be about good behaviour.
"I have heard of protests in Hama and Homs," said a confident 14-year-old Maez who seemed keen to engage in conversation. "But not in Damascus," she said with a shake of her head. "Why would there be protests here?"
I said some students were asking for change. "I am happy with my life, and the system here," she replied.
An invitation to other students in the classroom to share their views was met with muffled giggles and friendly smiles.
Calls for change
Young activists have taken the calls for change into classrooms in more restive cities like Hama and Homs. Activists say textbooks were burned and slogans like "the revolution is bright, the regime is dark" were boldly shouted.
It is hard to confirm how many schools took part.
There are reports of a few protests in Damascus. Activists, who ask not to be named, say some schools in suburbs like Douma, which have seen the biggest protests in the capital, are now shut.
A rare visit from foreign journalists to this high school got the girls talking about life outside their school doors.
'Taken away'
Some girls apologised for not sharing their views in front of the camera. "We know some girls who were taken away," explained one girl, referring to other schools. "It's not safe to talk about it."
One group noisily huddled together to discuss what "freedom" meant. Someone pointed out it was the slogan of the ruling Baath Party, so why could they not ask for more?
Another girl insisted President Bashar al-Assad had already brought them all the freedoms they wanted, including, for example, shopping malls.
Sitting in her office, beyond the hubbub in the hallway, school principal Hind Ahmad al-Ghubin insisted she had no worries protests would disrupt her school - which appeared to be well-run and well-resourced.
"I would only worry if I heard something being said in the hallways between classes against the regime but I haven't heard anything, so why should I be worried?" she asked from behind a desk flanked with ribboned school trophies bearing the faces of former President Hafez al-Assad or one of his sons.
I asked what she would do if she did hear something.
"There is no problem with having different views," she insisted. "We need to have an opposition that builds the country. If a girl expresses a different view we would just sit down and talk with her."
In today's Syria, young people are now on the frontlines of protest in some cities.
Human rights groups have expressed concern over the number of children arrested and allegedly tortured in a government crackdown against what it says are mainly "armed gangs".
Darwish al-Zouni is far from that troubled fray. As classes ended, and the girls headed home, there were eager requests to become Facebook friends, and warm goodbyes. Some of these bright young women will clearly play a role in their country's future - whatever that future may be.