Syria 'targeting Homs scientists'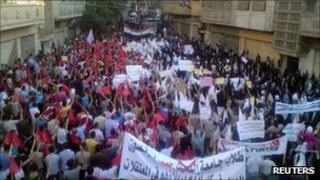 A nuclear physics professor has been killed outside his home in the Syrian city of Homs, the latest in a series of deaths of scientists in the city.
One activist said government snipers were to blame for Ous Abdel Karim Khalil's death, but another said it could have been a revenge attack.
His killing was reported as fighting continued between security forces and deserters in the town of Rastan.
Meanwhile, Russia attacked a watered-down plan for a UN resolution on Syria.
European countries proposing the resolution had dropped demands for immediate sanctions against President Bashar al-Assad's government.
The draft, proposed by the UK, France, Germany and Portugal and backed by the US, threatens sanctions only if the repression of protests does not end, and was aimed at winning the support of Russia and China.
But Russia's UN ambassador Vitaly Churkin said the proposed resolution would encourage violence, and was "a continuation of the Libya policy of regime change".
Deserters 'fighting back'
Inside Syria, security forces have been pressing on with efforts to quash protests that began six months ago.
In Rastan, a strategically important town that has seen frequent protests, soldiers who have deserted were reported to be engaged in heavy fighting with security forces for a second day.
"They have got a foothold in the southern part of Rastan, but the Free Syrian Army is fighting back and has destroyed three armoured vehicles," one resident told Reuters news agency, referring to the deserters.
The army entered Rastan, near the central city of Homs, early on Tuesday, after besieging it for two days.
Video has emerged purportedly showing a group of soldiers announcing their defection.
The video, which cannot be independently verified, shows a man identifying himself as Captain Youssef Hammoud flanked by about eight men in uniform.
In all, hundreds of armed citizens and deserters are said to be confronting government troops in Rastan.
Foreign journalists have largely been prevented from covering the turmoil in Syria, and reports from inside the country are hard to verify.
But observers say there are growing signs that some opponents of the regime are resorting to force, believing that peaceful protests will not be enough to bring down the government.
'Trying to sow chaos'
The UN estimates that more than 2,700 people have been killed across Syria since the crackdown began.
The Syrian government says it is battling "armed gangs" that have foreign backing.
The state news agency, Sana, said the nuclear scientist, Mr Khalil, was "shot in the head by a terrorist group as his wife was driving him to work".
But some activists blamed the regime.
"They are trying to sow chaos, fear and terror in the hope that protesters will be cowed into retreat," said Syria-based activist Mustafa Osso.
The head of the British-based Syrian Observatory for Human Rights said the killings of Mr Khalil and three other scientists were part of an attempt by the regime to "provoke confessional discord in Homs".